Taiwan: Our Practice Site at the Customs Building at Chung Cheng International Airport (Photo)
August 24, 2006 | By a Falun Dafa practitioner in Taoyuan, Taiwan
(Clearwisdom.net) Our practice site was set up in early 2001, located at the Customs Building at Chung Cheng International Airport in Dayuan Township, Taoyuan County. We practice the exercises on the first floor of the building, and study the Fa in the media and briefing office on the third floor. We have continuously practiced the exercises and studied the Fa at this location, except for public holidays, because we are indoors and not bothered by wind or rain. Practitioners of our practice site are all civil servants working at the Taipei Customs Bureau, Ministry of Finance.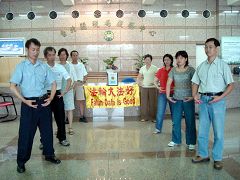 Customs Building Practice Site at Chung Cheng International Airport (Photo taken in August 2006)
We make use of a thirty minute noon-time break from 12:30 p.m. to 1:00 p.m. to do the exercises or study the Fa. We do the fifth set of the exercise on Monday, and the second set of the exercise on Tuesday. On Wednesday and Friday, we study the Fa and share experiences and understandings. We do the first, third and fourth sets of exercises on Thursday. On Saturday and Sunday, we do the exercises and study the Fa at home if we are off work.
After practicing Falun Gong, we hold ourselves to the standard of "Truthfulness-Compassion-Forbearance." Our xinxing has gradually improved, and our state of mind has become more and more calm. For example, Master Li said,
"We cultivators always let things happen naturally. If something is yours, nobody will take it away, and if something isn't yours, you won't be able to get it even by fighting for it." ("The Seventh Talk" from Zhuan Falun, 2003)
Whenever there is an announcement about promotions, sometimes practitioners are expected to be promoted, but it doesn't come to pass. These practitioners can still remain unperturbed and calm in these situations.
Through group Fa-study and experience sharing, practitioners can always be considerate of others in our daily lives as Master Li teaches us. Our practice site applied to register into our bureau's "Colleagues' Advanced Study Society" in the name of "Falun Gong Study Society." Our application was approved and affirmed by the government. On the inside information website of our bureau, by means of translating Zhuan Falun from Chinese to English we study English and introduce our colleagues to Falun Dafa's wonderfulness.
Dear friends, we welcome you to join our Fa-study and exercises. You will soon find peace of soul, become sturdy and vigorous, and enjoy a carefree feeling after all illnesses disappear. At the same time, we also hope people can see clearly the Communist Party's deceit and violence, and learn about the Chinese Communist Party's trampling upon human rights and abusing the people's freedom of belief. Together, we condemn the CCP's crimes against humanity in persecuting Falun Gong.