United Kingdom: Falun Gong Practitioners Participate in the Edinburgh International Festival Cavalcade (Photos)
(Clearwisdom.net) On the 6th of August 2006, UK Falun Gong practitioners participated in the cavalcade of the 30th Edinburgh International Festival. This was the fifth year in a row that Falun Gong practitioners have taken part.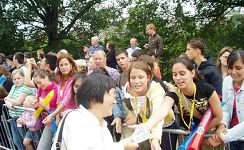 Many spectators want the bookmarks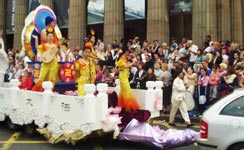 Spectators greet the Falun Gong float
The Falun Gong section of the cavalcade included banners, a flag dancing formation, a float with exercise demonstrations and flying angels, drum players and a hanging picture of the Falun emblem. Practitioners on the float demonstrated the fivesets of Falun Gong exercises. On the float there were also a few young practitioners in flying angel costumes holding ancient musical instruments. The audience kept applauding and waving to the float as it went by. The graceful moves of the drummers also won waves of applaud from the audience.
| | |
| --- | --- |
| Heavenly Maidens dance elegantly | A lovely little practitioner |
Small lotus flowers and bookmarks made by practitioners were especially popular. A young practitioner on the float kept waving to the camera crews. Many tourists looked for opportunities to take photos with young practitioners in costume before the cavalcade started.
The cavalcade of the Edinburgh International Festival is one of the largest parade shows in Scotland. More than three thousand people from all over the UK and Europe took part. Last year it attracted about one hundred eighty thousand spectators.
Of the six cavalcade photos posted on the BBC's Web site, three featured Falun Gong.
Source http://clearharmony.net/articles/200608/34801.html