Hiroshima, Japan: On the Day Commemorating the Nuclear Attack, Falun Gong Practitioners Expose the Chinese Communist Party's Persecution (Photos)
August 10, 2006 | By Tian Hui, a practitioner from Japan
(Clearwisdom.net) August 6, 2006, marks the 61st Anniversary of the nuclear attack in Hiroshima. People from all over the country came to Hiroshima to attend memorial activities. Falun Gong practitioners took this opportunity to hold activities on August 5 and 6 to clarify the truth. They held truth-clarifying display boards and passed out materials in the very hot weather. Many citizens learned the facts about Falun Gong and the persecution in China from them, and many also asked questions. Some visitors from Europe and America praised the practitioners' activity and told them that they had signed the petitions supporting Falun Gong in their own countries.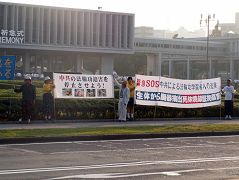 Clarifying the truth in front of the Hiroshima Peace Memorial Park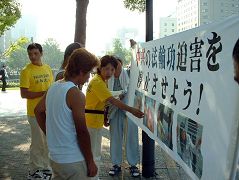 Clarifying the truth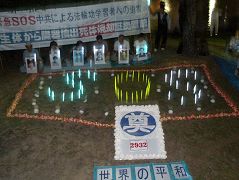 Candlelight vigil
At night, practitioners held a candlelight vigil in memory of the fellow practitioners who were persecuted to death in China. Many people took photos of the event, and many people learned the truth. A Chinese student listened to practitioners. She said that she hopes the persecution will end as soon as possible. She was also willing to quit the Communist Party and its affiliated organizations. Before she left, she said: "Please let me bow to you. This way, I can express my appreciation to you."