Toronto: Divine Land Marching Band Attends the Caribbean Festival Parade (Photos)
August 10, 2006 | By a practitioner from Toronto
(Clearwisdom.net) On August 5, 2006, the 39th Toronto Caribbean Carnival Festival held a parade along Lakeshore Blvd. in Toronto, which was the climax of the two-week event. The Divine Land Marching Band, consisting of 130 Falun Gong practitioners, attended the parade, the first Chinese band to do so. More than one million spectators enjoyed the spectacle.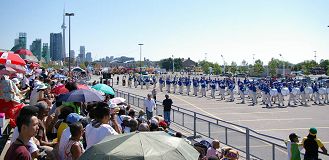 The Divine Land Marching Band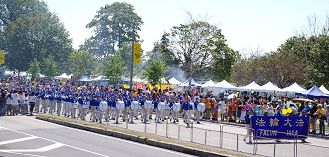 Passing by Lakeshore Park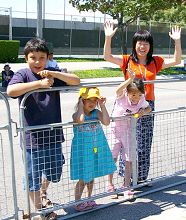 Young spectator greets the band.
Mr. Russ Charten, one of the organizers of the parade, said that he had seen the band's performance, so he knew that the band was excellent. He said that he plans to hold a big event in Oshawa next June, and he hopes that the Divine Land Marching Band will perform there.
A gentleman followed the band. He asked: "Are the members of this big marching band all Falun Gong practitioners?" He said: "I know about Falun Gong. It is a great group. I also know how severe the persecution in China is. They have freedom in Canada. Look how amazing their group is. They are so energetic."
A practitioner gave him some truth-clarifying material. He accepted and said: "I will read it carefully later." Practitioners asked him if he would be willing to sign a postcard which will be mailed to the Prime Minister to call for an end of the persecution. He said yes, and asked for several. He said: "I will mail it, and I will also ask my friends and family to sign them. But now, let me enjoy the performance by the band."
After the parade, many people praised the performance of the band. A policeman said to practitioners "Wonderful! Excellent!" Another policeman asked for more information about the band. Practitioners told him that they practice in Queens Park every week. The policeman said that he plays drums, and he would like to go and see practitioners' practicing.
A lady walked with the band, and passed out Falun Gong materials. She said to spectators: "Please read it, and then you will know more about them." Many people took materials from her.
After the parade, this lady told a reporter: "Both my husband and son are Falun Gong practitioners. They are also the members of this band. I am proud of them. Spectators really enjoyed their performance and applauded them." She said: "Although I am not a Falun Gong practitioner, I support them. To let more people know about the persecution, and encourage more people to step out to stop the persecution, I took this chance to pass out Falun Gong materials."