Taiwan: Five-day Falun Gong Workshop for Teachers in Taoyuan (Photos)
July 09, 2006 | By Shu Ping
(Clearwisdom.net) Falun Gong Workshops for Teachers are being held in north and south Taoyuan County this summer. A five-day workshop in north Taoyuan opened at Wenchuang Junior High School on July 3. Teachers from many schools came to the workshop, including some from Taipei.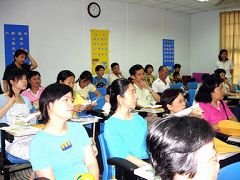 Workshop participants fill the room
The five-day workshop featured the lectures of Falun Gong founder Mr. Li Hongzhi and taught the Falun Gong exercises. Professor Liu Zhengyi from National Chung Hsing University, Doctor Hu Naiwen, and teachers from Nei-Li Senior High School and Chin-Hsi Junior High School gave presentations on various topics. Some well-selected videos were also shown during the workshop. Every participant benefited a great deal from the workshop.
| | |
| --- | --- |
| Teachers and their children learn Falun Gong | Everyone concentrates on the exercise |
Several teachers took their children to learn the Falun Gong exercises. It was a warm atmosphere with adults and children in the same class.
As more teachers gain a deeper understanding of Falun Gong, more and more are joining the workshops. One teacher didn't know much about Falun Gong before he came. He attended simply to earn credit hours, but after a couple of days, he said, "This cultivation practice is great! I will register for the rest of the workshop!"
Summer is a great time for teachers' self-development. Even though the workshop isn't over yet, there is no doubt that more people will learn Falun Gong and join this cultivation practice after the workshop. "Truthfulness-Compassion-Tolerance" will be spread more widely!