Beijing University 1999 Graduate Zhao Ruiyu Disappeared Over a Year Ago – Mother and Other Practitioners Also Missing (Photo)
(Clearwisdom.net)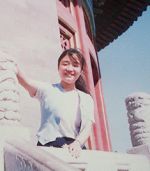 Zhao Ruiyu
Falun Dafa practitioner Zhao Ruiyu disappeared in Beijing on March 3, 2005. Her whereabouts are still unknown.
Zhao Ruiyu is originally from Guangzhou City. She attended the last series of Falun Gong lectures in Guangzhou in 1994, where she learned the practice, and has been persistent in cultivation since. Zhao Ruiyu was accepted as a student into the Eastern Languages Department of Beijing University in 1995 to study Indonesian. Her kindness and willingness to help others greatly impressed professors and students. Zhao Ruiyu and many practitioners from Beijing University went to Zhongnanhai Government Compound on April 25, 1999 to clarify the truth of Falun Dafa in a peaceful and rational manner.
After graduating in July 1999, Ms. Zhao Ruiyu returned to Guangzhou. The nationwide persecution of Falun Gong immediately followed. She and her mother, Li Xia, (age 61, also a practitioner) went to the provincial government to clarify the truth.
In October 1999, Zhao Ruiyu and her mother decided to go to Beijing to appeal for justice. As soon as they arrived at the Guangzhou train station they were arrested. Her mother was illegally detained for fifteen days for "intending to go to Beijing." Zhao Ruiyu was released. In late October 1999, Zhao Ruiyu traveled to Beijing alone. In April 2000 she unfurled a banner in Tiananmen Square that read, "Falun Dafa is good," to validate Dafa. Then she was arrested and sent back to her hometown where she was detained for one month. During detention persecutors forced her to do hard labor.
When she was at her Guangzhou home her phone was tapped, and her whereabouts were monitored. She was required to report to the police station about her travels.
In the fall of 2000, the persecution escalated. Seeing that, mother and daughter decided to go to Beijing again to appeal. They overcame many obstacles on the way, and with a firm belief in Dafa they finally arrived in Beijing. The Beijing Appeals Office, however, had become a place where Falun Gong practitioners were arrested. There was no chance for an appeal. Zhao Ruiyu and her mother decided to stay in Beijing and clarify the truth to people around them. (Zhao Ruiyu's father had already passed away)
They had minimal financial resources in the years of their life in Beijing. Life was hard for them. In addition, they had to be alert at all times for the arrests of practitioners. They saved money from food and clothing, and tried their best to help others silently. They spent their limited money on making truth clarification materials and sending mail to predestined beings far away. They handed truth materials to kind-hearted people on the streets and told them to remember that Falun Dafa is good.
Zhao Ruiyu went out as usual on March 3, 2005, but has since disappeared. There is presently no news of her. Her mother traveled back to Guangzhou to look for her. She then disappeared as well.
We worry very much about their safety because in today's China the persecution of Falun Gong practitioners has reached the point of insanity and ruthlessness.
The CCPs methods are quite cruel – psychological torment, severe beatings, torture, even rape and murder. Since July 20, 1999, 2910 Falun Gong practitioners are confirmed to have died as a result of the persecution (data as of June 2006). These incidents are found to span the country in over thirty provinces, autonomous regions and municipalities. When the events of the CCP's secretly setting up concentration camps for Falun Gong practitioners was exposed recently, the CCP began to detain arrested practitioners on a large scale. The CCP removed practitioners' organs when the practitioners were still alive, for sale for transplant surgeries, and then cremated the bodies to destroy the evidence. The organ harvesting and sale is hugely profitable for the CCP regime.
In the several years of the CCP's persecution, tens of thousands of practitioners have disappeared. When their families and friends hear of organ harvesting, they are consumed with worries and anxiety.
We sincerely urge more people to pay attention to the situation of Falun Gong practitioners in Mainland China. Please extend your helping hands!
Searching for Dafa practitioner, Yu Hong (Sha City, Hubei Province).
Yu Hong, a practitioner from Sha City, Hubei Province, called home in August 2004. There has been no news of her since. We hope to learn information regarding her personal safety.
Dafa practitioner Ma Yongkang from Lanzhou City disappeared after his arrest in late 2005.
Ma Yongkang graduated from Lanzhou Medical School. He was illegally detained once in the Pingantai Forced Labor Camp and was released in 2001. Ma Yongkang was arrested again in late 2005. His whereabouts are still unknown.