Doctors at World Transplant Congress Attend Forum On Stopping the Organ Harvesting in China (Photo)
(Clearwisdom.net) During the World Transplant Congress (WTC), a forum on the "CCP's live organ removal" was held at the Hilton Hotel in Boston. Nearly 200 WTC delegates participated in the forum and read the investigation report on the allegations that organs are being harvested from living Falun Gong practitioners in China, written by David Kilgour and David Matas. Many doctors gave speeches and talked about how to stop the live organ removal from Falun Gong practitioners for profit.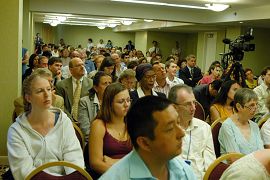 Forum on "CCP's live organ harvesting"
The Sound of Hope reported on July 25 that a transplant doctor from Chicago gave a speech saying that the live organ removal is more evil than what took place in Nazi Germany during World War II. Current governments pay attention to commercial interests and put moral issues aside. The International transplantation community opposes such live organ removal, and it is very important to stop such actions. The next step is to take the issue to the World Court.
A member of ethics committee of the WTC from North Carolina said that the CCP's live organ removal is horrible and should stop immediately.
Doctor Charles George from Sydney said that three of his patients went to China to buy kidneys. He suspected that they knew the source of the kidneys. He thought that these patients had committed a crime by extending their own life by the killing of others. Thus, going to China for organ transplantation should be regarded as a capital crime. Governments should ask doctors to report such cases after the patients return. He also said that doctors should deny services to such patients.