Hong Kong Falun Gong Practitioners Protest CCP's Persecution (Photos)
July 28, 2006 | By a Hong Kong Falun Dafa practitioner
(Clearwisdom.net) July 20, 1999 was the day on which the Chinese Communist Party (CCP) started the seven-year-long persecution of Falun Gong. On the night of July 20, 2006, several hundred Hong Kong Falun Gong practitioners gathered in Central Standard Garden to hold a candlelight vigil. Falun Gong strongly condemns the CCP's inhuman crime of organ harvesting from living people and numerous other atrocities, and calls on governments, organizations, the media and every person in the world to prohibit the Communist Party's continued killing.


On July 20 2006, several hundred Hong Kong Falun Gong practitioners held a candlelight vigil in Central Standard Garden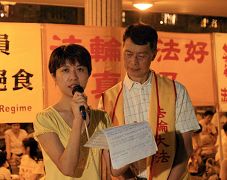 Family members of illegally-jailed Falun Gong practitioners speak to the public asking for help to rescue their relatives
Falun Gong practitioner Miss Zeng said that being a particle of the unity of cultivators, everyone has the responsibility to stop the CCP's atrocities. "The recently exposed crime of organ harvesting is very severe and upsetting. The CCP cuts out the organs when a person is still alive and sell the organs for profit. Knowing of these crimes pains my heart. That is the reason why we are here tonight to call on people from all walks of life to support our endeavors to end the persecution. We will persist with our belief because we did nothing wrong."
Falun Gong promotes cultivation of Truthfulness Compassion and Tolerance.
Zhu Keming, who was secretly jailed in China for five years because he sued the former Chinese President in court for the inhuman persecution of Falun Gong, said he had experienced a lot in the past seven years. He said, "The persecution of Falun Gong is actually a challenge to all civilized countries in the world. Those who are indifferent are also the victims of the CCP's lies."
Some the participants of the rally were family members of Falun Gong practitioners being jailed and persecuted by the CCP in China. They called on society to extend their hand to help rescue their family members.