Mr. Yang Chunyong Arrested When Nineteen Years Old but Still Missing after Seven Years (Photo)
(Clearwisdom.net) Falun Dafa practitioner Mr. Yang Chunyong is from Yushu City, Jilin Province. He went to Beijing to appeal on July 31, 1999, and was escorted by policemen back to Changchun City. He has been missing ever since. Police say that they do not know where he is.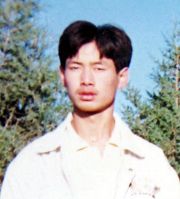 Yang Chunyong
Mr. Yang Chunyong was only 19 ears old when he went missing. He worked in the Xinyuan Steel Window Factory after he had graduated from high school. He worked very hard, and treated people very nicely. He respected people in every environment, and was willing to help. He was very well-received by his boss and colleagues. His factory manager once said at an employee meeting (before the persecution), "Nowadays you see bad people everywhere, but it's hard to find good one like the young lad Yang Chunyong. I think we ought to learn Falun Gong from Yang Chunyong!"
On August 18, 1999, two policemen escorted Mr. Yang Chunyong and his brother Yang Chunming (also a practitioner), plus another fellow practitioner on a train from Beijing to Changchun City. At around 10 p.m., Mr. Yang Chunming went to the restroom. Upon coming back, he found that his brother Yang Chunyong and policeman Wang (first name unknown) had both disappeared. He asked the other practitioner and policeman about it, and they both said that they did not know. He searched the whole train compartment, but he could not find them. It was a sealed train with air-conditioning, only the engine compartment had a opening window. The train was going fast, so they could not have jumped off the train. Mr. Yang Chunming said, "The five of us were sitting half-asleep before I went to the restroom. When I returned ten minutes later, my brother and policeman Wang had both disappeared." Later he met with the policeman Wang, and asked him where his brother was. Wang hesitated first, and then said that he did not know.
Seven years have past, and no one has ever seen that nice young man Yang Chunyong again.
See also, http://www.clearwisdom.net/emh/articles/2005/2/1/57080.html