Australia: "Let the Truth of Falun Gong Be Spread All over Australia" (Photos)
July 20, 2006 | By a practitioner from Australia
(Clearwisdom.net)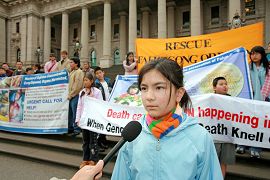 The young practitioners being interviewed in front of the Parliament Building in Melbourne after the tour
On the morning of July 8, 2006, the Parliament Building of Melbourne greeted the just-arrived ten young practitioners from Sydney. They held a press conference in front of the building, highlighting their "Van Tour Calling for an End of the Persecution of Falun Gong." These children range in age from 11 to 19 and study in middle schools or professional schools in New South Wales. Their goal was to expose the Chinese Communist Party's (CCP)'s crimes of removing organs from living Falun Gong practitioners and selling them for profit, and to call on people to step forward together to stop the persecution. They young people departed on Monday, July 3. They passed through ten cities and arrived in Melbourne on July 7. They were well received by five major media and interviewed by many radio stations and local newspapers on their trip. After the long journey, these kids looked exhausted but gratified.
| | |
| --- | --- |
| Anthony, 19, being interviewed | Melody, 14, being interviewed |
Anthony, 19, is the big brother of the team. He told the reporter that this was his third van tour calling for an end to the persecution. The first was from Sydney to Brisbane and the second from Sydney to Adelaide. He said, "The van tours are very important. We enjoy freedom and democracy in Australia. But in China, so many kids our age are discriminated against for their parents'' belief in Falun Gong. Some have even lost their parents. Especially since last March, after two witnesses exposed the CCP's inhuman crimes of excising organs from living practitioners, I worried even more for those children in China. I couldn't imagine how they would feel when they got the news. They were so hopeful for their missing parents before, but after the horrible revelations, they realized that they may be orphans... This is so cruel! The purpose of our van tour was to expose the CCP's persecution against Falun Gong to more Australians, not only in urban areas but also in more remote places. Many Australians with kind hearts along the trip could not imagine the tragedies taking place in China. It's the 21st century. This (organ harvesting incident) brings humiliation and grief to human beings. We hope that everyone that learns the truth of Falun Gong will grab a pen and write to their MPs and the Prime Minister to condemn the CCP and help stop the persecution." Anthony told the reporter that they had another important mission on their trip, which was to donate the book Zhuan Falun to each local library. He started to practice Falun Gong in 1999. Since then, he has been healthy, active, and open-minded. He has benefited greatly.
Melody, a 14-year-old girl, knew all the dangers that practitioners in China have to face. Her mother, Zeng Zheng, used to have Hepatitis C but recovered after practicing Falun Gong. Ms. Zeng Zheng was illegally arrested many times in China and was sentenced to forced labor just for writing a letter home on the Internet. She ended up in Australia after many difficulties. Melody's father, not a practitioner, was implicated and imprisoned. He was released after paying 200,000 yuan (about $25,000). She felt so lucky to be in Australia, and even more anxious to do something for the practitioners in China and the Chinese people poisoned by the CCP's massive propaganda.
| | |
| --- | --- |
| Tourists learning the facts about Falun Gong | Distributing flyers on the street |
The driver of the van was one of the victims in the infamous South African shooting incident Mr. David Liang. In 2004, during Chinese Vice President Zeng Qinghong's visit to South Africa, nine Australian practitioners went to South Africa to appeal peacefully. Driving away from the airport, the practitioners were shot at. As the driver, David was shot twice in his feet, and a bone in one foot was smashed. The doctors asserted that he needed to have his foot amputated, but David instead kept practicing Falun Gong everyday. After three months, he recovered and returned to Africa to clarify the truth.
After two years, David said that his situation is pretty stable. As a professional taxi driver, the gunshot wounds haven't affected his work and life. In fact, he drove the entire way alone for the students' van tour from Sydney to Adelaide earlier this year. Regarding this trip, Mr. Liang thought it was very successful. People highly praised the kids' project, especially when a radio station conducted a live interview with the team: the audience feedback was very encouraging and touching. Mr. Liang said, "This little bit of hardship doesn't matter. We must awaken people's consciences."
After the press conference, the young practitioners went on to visit each government department in Melbourne without a break. They hope to spread the facts of Falun Gong all over the continent. All the pre-trip organizing, planning and outreach were taken care by these children alone. They completed a very important endeavor.The two weeks of school break has ended. Each student may have gained much, either from a part-time job, skiing in the mountains, or reading books... But ten students from Sydney spent their short and meaningful two weeks in a unique way.