Taiwan: Falun Gong Workshop for Teachers Held in Southern Taoyuan County (Photos)
July 13, 2006 | By Minghui reporter Yusheng
(Clearwisdom.net) A three-day "Falun Gong Workshop for Teachers" was held in an elementary school in Southern Taoyuan County on July 10. About two hundred teachers attended.
| | |
| --- | --- |
| Workshop schedule | Participants |
At the opening of the workshop, Mr. Lai Jinlin, principal of the elementary school and the mayor of Pingjhen City, came to give the welcoming address and offer support for this workshop, which benefits teachers' physical and mental health. On July 10, the organizers arranged two lectures, Falun Gong exercise instruction, movies and a "Journey of Falun Gong Photo Exhibition." The organizers also invited Falun Gong practitioners to share their experiences of cultivation.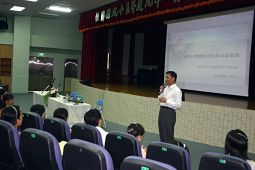 Mayor of Pingjhen City gives the welcome
Mr. Lai Jinlin told everyone that three teachers from the elementary school, who are also Falun Gong practitioners, organized this workshop voluntarily. He appreciated the volunteers' hard work. He said that it was very touching to see everyone working so hard.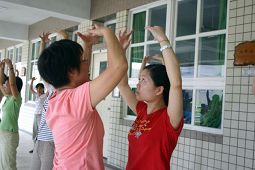 Learning the exercises
Prof. Chen Yanling gave a lecture in the morning. Her topic was "Teachers' Stress and Mental Health." With some individual cases, Prof. Chen analyzed that the source of stress is from one's own notions. If one can respect lives and get along with others peacefully, then the stress will go away, and one can achieve good mental health. As a doctor and Falun Gong practitioner, Prof. Chen described that by her own experience Falun Gong's teachings and exercises helped her to improve her mental and physical health.
Participants learning Falun Gong exercises in six groups
Mr. Hsu Hsiaolin, principal of an elementary school in Changhua County, gave a lecture in the afternoon. His topic was "Teachers' Mental Health and Communication with Others." In his school, Mr. Hsu has been trying his best to promote moral education. He shared his experience with everyone. He also talked about how, as a Falun Gong practitioner, he cooperates with all the teachers to create a good school environment.
| | |
| --- | --- |
| Journey of Falun Gong Photo Exhibition | Participants reading Falun Gong books |
It is worth mentioning that there are two more elementary school principals in Changhua County who are also Falun Gong practitioners. They also held similar workshops for teachers. Due to their efforts, some teachers in their school started practicing Falun Gong.
| | |
| --- | --- |
| Mr. Gao shares his experience of cultivating Falun Gong | Young practitioner shares her experience of cultivating Falun Gong |
Participants also learned the Falun Gong exercises. Before the day's end, Falun Gong practitioners from different ages and classes shared their experiences of cultivating Falun Gong. They talked about how they follow the principle of "Truthfulness-Compassion-Forbearance" and eliminate their attachments in daily life. Their talks gave the participants a better understanding of Falun Gong. Many teachers said that they would come to the workshop the next day.