Jimo City 610 Office Secretly Arrests Outstanding Teacher Mr. Li Ganlin of Longquan Middle School (Photo)
(Clearwisdom.net) Mr. Li Ganlin is a Chinese language teacher in Longquan Middle School (formerly Duanchun Middle School) in Longquan Town, Jimo City, Shandong Province. His classes are always outstanding, and his colleagues and students, as well as the students' parents, think highly of him. However, because he adheres to the practice of Falun Gong, he was secretly arrested by Jimo City's 610 Office.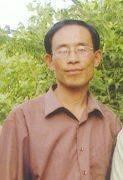 Teacher Li Ganlin
After Mr. Li Ganlin began to practice Falun Gong in 1998, he often helped students who were in financial need with money he saved from his salary. Besides giving his students knowledge, Mr. Li paid more attention to the principle of "Truthfulness-Compassion-Forbearance" to guide his students to be good people.
Because he firmly believes in "Truthfulness-Compassion-Forbearance," this well-regarded teacher has been unjustly persecuted since July 20, 1999, including being illegally detained, being sent to a brainwashing center, and being fined.
On his way home on Wednesday afternoon, June 21, 2006, Mr. Li was secretly arrested by officials from the Jimo City 610 Office and the Longquan Police Station. To date, his whereabouts are still unknown. It was said that he has most likely been transferred to the Jimo Detention Center from the Longquan Police Station.
The students who witnessed the arrest were justifiably very angry. Teacher Li Ganlin had just sent his students to take their final exams and then could not attend their graduation ceremony. Many students plan to go to the 610 Office together and ask the officials to release their teacher.
Relevant telephones:
Li Ganlin: 86-532-86531323 (Home)q1q
Zhang Lipei, principal of Longquan Middle School: 86-532-85580727
Zhu Wenliang, vice principal of Longquan Middle School: 86-532-88579128, 86-13573281067 (Cell)
Lu Sixiu, provost of Longquan Middle School: 86-532-85580717
Pan Xinzheng, a teacher at Longquan Middle School: 86-532-85580698, 86-532-85580657 (He once reported practitioners to police and later was involved in a car accident.)
Song Dezhu, director of Longquan Town Education Committee: 86-532-85589069 (Office)
Pan Yujie, head of the Longquan Police Station: 86-532-85589063 (Office)
Longquan Town Hall: 86-532-85589002
Chief Office of Longquan Town: 86-532-85588666
Officials from the Jimo City 610 Office: Wang Helin, Xu Keai, Wang Baoxian, Liu Chengmin, and Zhou Xin q2q