Investigation Leads: Report on Organ Transplants in Shanghai (Photos)
(Clearwisdom.net) Since the exposure of the Chinese Communist Party's (CCP) removal of organs from live Falun Gong practitioners and burning their bodies to destroy the evidence, the Falun Dafa Association and Minghui/Clearwisdom website have launched the "Coalition to Investigate the Persecution of Falun Gong in China (CIPFG)" to collect investigation leads from society. The following are some of the recently developed leads. We hope that kind people who know the inside story continue to help us to expose the cruel killing of Falun Dafa practitioners and the collusion of all forced labor camps, prisons and hospitals in China, and to stop the persecution.
1. Shanghai City Science Committee Invests 8 Million Yuan in Five Hospitals to Conduct Organ Transplant Clinical Research
According to a report in the Liberation Daily in 2004, since 2002, the Shanghai City Science Committee has set up a "significant research topic" on the transplantation of many internal organs, invested 8 million yuan in the project, ordered five hospitals, including Fudan University-affiliated Zhongshan Hospital, No. 2 Medical College-affiliated Ruijin Hospital, City No. 1 Hospital, No. 2 Military Medical University Dongfang Liver and Gall Hospital, and City Lung Branch Hospital, to engage in clinical research in the transplanting of hearts, livers, lungs, and other major organs.
In 2002, Shanghai performed nearly 500 viscera transplant surgeries. Among them, heart, liver, lung, pancreas, and other major organ transplants comprised 110 cases, which was five times more than in 2001. The total number of transplant procedures performed in 2003 was close to 1000, and liver transplants alone amounted to over 400. Furthermore, Shanghai has completed 57 heart transplants. Therefore, Shanghai achieved "number one," "nationally and even internationally," in such areas as emergency treatment of liver transplants, completing the world's first adult lung transplant from a non-blood relationship donor, and "research on liver transplant and abdominal organ union transplant." "Live liver transplant and liver kidney union transplant" projects "won the 2003 Shanghai clinical medical service achievement award."
Looking at these scientific experiments and research outcomes, besides over a thousand major organ transplants, "emergency liver treatment," "adult lung transplant from non-blood relationship donor," and "live liver transplant and liver kidney union transplant," etc., where did the donors come from? The huge quantity essentially verifies the revelations by insiders that the Chinese Communist Party has been using healthy Falun Gong practitioners who practice "Truthfulness, Compassion, Forbearance" as a live organ bank, and they are victims of cruel scientific research carried out on orders of CCP officials and technical staff for a long time.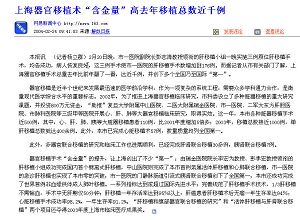 2. No. 2 Military Medical University Changzheng Hospital People's Liberation Army Organ Transplanting Research Institute
1) Completed Sixteen Liver Transplants and Fifteen Kidney Transplants Within Nine Days
During the nine days from April 22 to April 30, 2005, No. 2 Military Medical University Changzheng Hospital People's Liberation Army Organ Transplanting Research Institute completed sixteen liver transplants and fifteen kidney transplants. The institute's website boasted that it had created "a new record in completing transplant cases in a unit of time."
From another perspective, on the other side of successful live liver and kidney transplants (total 31 people), 31 living people's livers and kidneys were purloined. Without the evil party's inhuman policy of "killing without pardon" and "destroying the physical body" of Falun Gong practitioners, who would dare to wantonly end one life to extend another? Only the "People's Liberation Army Hospital" instigated by the CCP kills in this way, while boasting of its efficiency.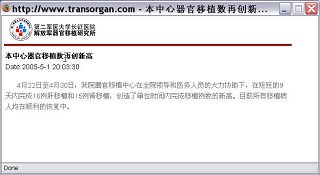 2) People's Liberation Army Organ Transplant Research Institute Established in the Most Severe Period of the Persecution Against Falun Gong by CCP
Shanghai Changzheng Hospital's official website reports, "The Chinese People's Liberation Army Organ Transplanting Research Institute was set up in December 2003 by the organ transplant center in the No. 2 Military Medical University No. 2 Affiliation Hospital (Shanghai Changzheng Hospital), with the authorization of People's Liberation Army General Logistics Department and medical department." This was also the time when Jiang's regime and the CCP persecuted Falun Gong to the most severe degree.
3) Kidney Transplant Quantity is Up To 3000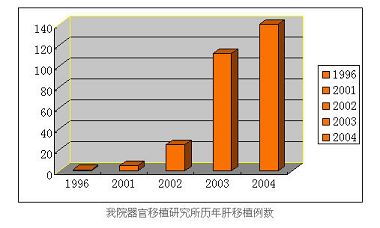 According to Shanghai Changzheng Hospital's official website, it has completed 3000 kidney transplants since 1978, and currently performs more than 200 cases every year. It is one of the units in the country that developed the earliest and has the most completed cases. There were very few liver transplants in 1996, but in 2000 and 2001, when the persecution of Falun Gong gradually achieved a high tide, the numbers of liver transplants also rapidly increased. This was related to the large numbers of Falun Gong practitioners being killed for live organ transplants.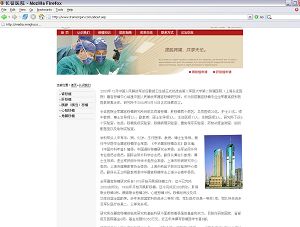 Also, Liberation Daily reported that on October 27, 2004, the entire country had completed over 6000 kidney transplants and over 2000 liver transplants.
3. "Very Few Transplants by Relatives" - Why Are Over 1000 Transplant Surgeries Performed Each Year?
According to the Liberation Daily report on October 22, 2004: Recently, "a reporter has learned that transplants by family members and relatives accounts for only 0.4% of the total transplant surgeries currently performed in our country, which is quite different from the 50% in the United States and other developed countries."
However, "data shows, there were less than 500 liver transplants in our country in 2001, over 1000 in 2003, but we expected to achieve 2500 in this year (2004)." For so many liver transplants, if the organs are not provided by family members, who provided them "voluntarily"? Are they purloined from the killings?
Who should be killed like that? Criminals? Falun Gong practitioners? Human rights are granted by heaven. Regardless what kind of people they are, they cannot be murdered in this manner and be forced to die unjustly for the horrible "transplant surgeries."
4. Conclusion
The collected data above clearly shows that organ transplant operations in Shanghai have increased multiple times since 2001, while large organ transplant centers and organ transplant research centers were set up in succession. Total transplant surgeries performed in 2003 consisted of nearly 1000 cases. Shanghai has all along boasted of being the "showcase" of China's human rights, social stability and economic development. Since a few dozen prisoners are executed each year, and the transplants provided by family comprise only 0.4% of all cases--then where do the huge number of organs come from? The shocking data hides extremely brutal slaughter. It appears that medicine has developed and medical treatment has advanced. However, it has come at the cost of innocent people's lives. We call on the international community to conduct a complete investigation on the origins of organs used in transplants in Shanghai, uncover the barbarity and criminal activity behind the cover up, and reveal the truth to the world.