Dr. Wenyi Wang Reaches Agreement to Have Charges Dropped (Photo)
(Clearwisdom.net) On April 20, 2006, during a welcoming ceremony held at the White House for Hu Jintao, The Epoch Times reporter Dr. Wang Wenyi suddenly shouted in protest on the south lawn to Hu Jintao and President Bush. The US authorities then filed charges against Wang Wenyi on charges of willfully intimidating, coercing, threatening and harassing a foreign official. The hearing was postponed three times. Dr. Wang later reached an agreement with prosecutors in which all charges will be dropped against her, she said on Wednesday.
Under the deal, charges against Dr. Wang will be postponed until April 2007. If she does not commit any crimes during that time period, the charges will then be dropped.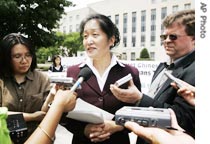 Dr. Wang being interviewed by media on June 21
According to VOA's report on June 21, Wang Wenyi said, "I feel it is a wise decision that the American government decided to drop the charges against me. I have said from the very start that I'm not afraid of going to trial, because through the trial, the American people and Chinese people may take a good look at what kind of persecution Falun Gong practitioners have been suffering in the past several years. The American people may understand that they should not only engage China economically, but also put human rights issues into effect, and care about the persecution of Falun Gong practitioners. Finally, only when the international community, international media and governments all take action and pay attention to what is happening, can we bring the atrocities to an end."
When talking about why the American government made the present decision, Wang Wenyi said, "It may be due to a concern for morality and justice. The First Amendment to the US Constitution guarantees people's freedom of speech, freedom of belief and freedom of expression. This is the fundamental difference between this country and other countries, especially totalitarian countries like China."