Canadian MP Expresses Concern Over the CCP's Persecution of Falun Gong (Photo)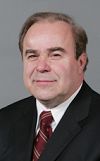 MP Daniel Petit
(Clearwisdom.net) After learning about the persecution of Falun Gong practitioners in China, Canadian Conservative Party MP Daniel Petit expressed his concern on this issue and wrote to the Canadian Minister of Foreign Affairs on May 8 to inquire on the position of the government on this issue and the follow-ups that have been made by organizations including the International Criminal Court. Below is a transcript of the letter.
May 8th, 2006
The Honorable Peter Gordon Mackay
Minister of Foreign Affairs
Lester B. Pearson Building, Tower A, 10th floor
125, Sussex Drive
Ottawa, Ontario, K1A 0G2
Subject: Falun Gong
Dear Mr. Minister,
Recently, in the County Office I have received a delegation of four Falun Gong practitioners. This is a spiritual movement that encourages one to practice supple gymnastics accompanied by meditation based on the theme of Truthfulness, Goodness and Endurance. These practitioners have left me with an extensive list of public documents that demonstrate that the practitioners of this system are victims of discrimination and ill treatment in China.
In this regard, these documents speak of the prohibition of practicing in public, of arrests and imprisonment, of torture, of murder and also of organ extraction, all acts condemned by humanitarian associations such as Amnesty International and Human Rights Watch.
In order to inform my constituents, I would like to receive a written summary of Canada's position on this issue as well as the follow ups that have been made by organizations such as the UN and the International Criminal Court, of which Canada is a member.
Please acknowledge, Mr. Minister, the assurances of my highest consideration
Daniel Petit, Deputy