Shen Jianli, a Teacher at Jilin University, Is Reported to Have Been Killed and Her Body Disposed Of (photo)
May 09, 2006 | By a Falun Dafa practitioner in Changchun China
(Clearwisdom.Net)
Shen Jianli, a Dafa disciple from Changchun, was a teacher at Jilin University. At the end of April 2002, a police officer unintentionally released information that Shen Jianli had been killed as a result of persecution. So far, her body has not been found. We are calling for further investigation into this matter.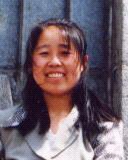 Shen Jianli (taken in 1999)
Ms. Shen Jianli was born in 1969. She was a faculty member of the Department of Applied Mathematics at the Nanling Subdivision of Jilin University in Changchun, Jilin Province. Because she persisted in practicing Falun Gong and believing in "Truthfulness-Compassion-Forbearance", she was sent by two heads of the 610 Office at Jilin University, Liu Yuan and Liu Wei, to the Nanling Police Substation. She was later sent to the Jingyuetan Brainwashing Center. Her three-year-old son Shen Jianli was also subjected to brainwashing. The Nanling Police Substation repeatedly threatened to send her son to an orphanage so that they could send Shen Jianli to a forced labor camp. Shen Jianli's husband Zhen Weidong was also later detained at a forced labor camp. Shen Jianli and her child managed to escape. After that, Liu Yuan boasted, "I don't believe that I cannot get her." Shen Jianli was then placed on the police's wanted list.
On March 6, 2002 when her husband Zhen Weidong was put on trial, Shen Jianli was arrested at the entrance of the courthouse. As a result, her child was left alone at the entrance. Shen Jianli was illegally detained at the Third Detention Center of Changchun city, otherwise known as Shuanyang Detention Center, and her husband Zhen Weidong was illegally sentenced to thirteen years of imprisonment. Shen Jianli went on a hunger strike to protest her illegal detainment. It was confirmed by a witness that Shen Jianli never returned after the first interrogation.
The police told those searching for Shen Jianli that she was not dead, but sent to another place. Another police officer said, "I cannot tell you where she is; I'll be finished if I tell you that." When she was arrested, Shen Jianli was only 33. Her health was perfect, but now we have reason to believe that she is deceased, possibly as a result of organ harvesting.
We request those who know about this case to provide information on Shen Jianli's story. We also wish to ask the "Coalition to Investigate the Persecution of Falun Gong in China (CIPFG)" to investigate her case.
May 3, 2006