Jiuquan Jail Illegally Imprisons and Persecutes Falun Gong Practitioners (Photos)
(Clearwisdom.net) Jiuquan Jail in Gansu Province was initially constructed in October 1951. Located on the southeast corner of Jiuquan City, it is known to the public as the Jiuquan Electrical Machinery Plant. Currently, they have 469 police officers and employees, and around 330 retired staff. The main electrical plant occupies 30 acres. The jail area consists of thirteen buildings located in the suburb. The two farms affiliated with the jail, Chengjiao and Qingshui Farms, have an area of around 1650 acres and are situated in the desert. Xiaheqing Farm is situated to the northeast in the Jiuquan urban district. It has been nicknamed by local residents the "white sore beach." This is Jiuquan Jail's largest labor camp for "reform" through re-education, covering an area of 1650 acres. The supervision jurisdiction belongs to the fourth and fifth divisions of the jail. The train station ironwork factory is Jiuquan Jail's seventh division.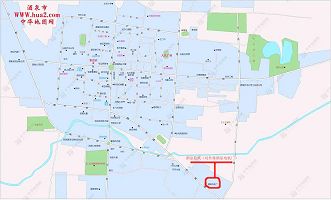 Map of Jiuquan Jail in Gansu Province
In 2001, Jiuquan Jail in Gansu Province was designated by Gansu Province Jail Administrative Bureau, (Bureau Chief Lu Sanxin) as the jail for serious criminal offenders. Some sources revealed that "Jiang Zemin ordered that several special large 'reform' prisons be built in deserted, isolated, uninhabited regions of the five provinces including Xinjiang, Gansu, Inner Mongolia and Sichuan provinces to imprison Falun Gong practitioners with the instruction that the prisoners taken there should never come out. In February of 2005, the Gansu Province Jail Administrative Bureau invested approximately 300 million yuan to remodel the prisons in Gansu Province, including the lay out, within two years. Jiuquan's Jail in Gansu Province was included in the plan for modification and remodeling.
Located in the suburb of Jiuquan, is Juiquan Electrical Machinery Plant Suburb Farm (approximately about 6 km from the city, situated about 3 km off of Jinta highway) This is Jiuquan Jail's sixth supervised prison, and many practitioners are being held here. A Lanzhou practitioner is currently imprisoned there. It has been reported that practitioners who were confined in Jiuquan Jails were dispersed between the areas of Jiuquan City and Jinta County, in multiple locations. The sixth and fourth jails are close to Jiuquan City while the specific locations of other jails are unknown.
In 2003, the corrupt police used the pretext of so-called "reforming" Falun Dafa practitioners, to concentrate the confinement into a squadron within the jail. This confinement enabled the practitioners to collectively resist the persecution with a hunger strike. Later they were dispersed to other jails for confinement.
Falun Dafa practitioner Wang Xiaodong, from Yumen City, resisted the illegal confinement, and was persecuted during the Chinese New Year's celebration period through solitary confinement and sleep deprivation for more than twenty-six days.
On December 1, 2005, 20 practitioners who were confined in Wuwei Jail were transferred to Jiuquan Jail to be "transformed."
Before 2006, the Electrical Machinery Plant was imprisoning more than twenty Falun Gong practitioners from the Jiuquan area. Li Yuhai was illegally sentenced to 14 years in prison, Wang Wenzhong ten years, Wang Xiaodong eight years, and Ma Yong for three years. Several others have already been accounted for on the Internet, and many others are currently unaccounted for.
Around the Lunar New Year in 2006, the male practitioners who were sentenced in Gansu Province were transferred to Jiuquan Electrical Machinery Plant for more severe, brutal, and intense persecution. On the surface, they were not forced to do labor with beatings or verbal abuse. Instead, they were persecuted more covertly, by being deprived of sleep. Some practitioners were not allowed to sleep for more than ten consecutive days. The police would designate certain "Jail Protectors" to follow the practitioners at all times, even during their family member's visits. They monitored every movement of the practitioners.
The Jiuquan Jail staff has brutally persecuted practitioners. Practitioners were not even allowed to speak to their family members during visits since they were being monitored. All the practitioners in Jiuquan Jail were steadfast practitioners who refused to renounce the practice; they had been previously persecuted in various other jails in Gansu Province. Some of the practitioners were confined for more than four years.
According to information from reliable sources, Falun Gong practitioners from Gansu, Qinghai and Ningxia provinces who refuse to renounce the practice are transferred intermittently to this remote concentration camp for continued persecution.
Incumbent warden: Liang Qiuming, vice- warden: Wang Yin