Ottawa, Canada: Falun Gong Participates in Tulip Festival Parade (Photo)
(Clearwisdom.net)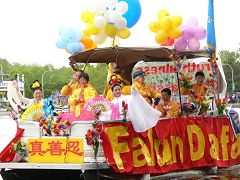 Falun Dafa practitioners participate in Ottawa Tulip Boat Festival
Ottawa, Canada is a city well-known to the world for its tulips. Every May, it hosts a large-scale celebration. On May 21, 2006, Falun Gong practitioners participated in the annual Tulip Boat Parade so as to help more people know Falun Dafa.
The Tulip Festival attracts over 100,000 spectators from various areas. The boat parade is the climax of the entire celebration. The decorated boats began to leave Dows Lake at 1:00 p.m., and sail along the longest canal in the world, the Rideau Canal. It takes about two hours to sail the whole route. This year, there were 32 boats participating in the parade.
Practitioners wearing golden exercise suits demonstrated the Falun Gong exercises on the boat. Two practitioners dressed as celestial maidens waved to the spectators, who applauded warmly. Practitioners on the bank handed out free colorful balloons printed with, "Falun Dafa is good."
Janet, the organizer of Falun Gong's boat, said, "This is our fifth time participating in this parade. It is a good chance to let many people see the beauty of Falun Dafa. People have already learned about the Chinese Communist Party's persecution of this group but they may not have known about the beauty of Falun Dafa. Many people watched the parade but some of them are still asking us what Falun Dafa is. We practice our exercises on the boat with beautiful music. This is a good opportunity to let people know about Falun Dafa."