Canada MP Pierre Poilievre: "Canadians Must Not Become Complicit by Keeping Silent. We Must Investigate." (Photo)
(Clearwisdom.net) On April 26, 2006, Canada MP Pierre Poilievre wrote a letter to Hon. Peter Mackay, Minister of Foreign Affairs, calling for investigation of large-scale organ harvesting from living Falun Gong practitioners in China.
Hon. Peter Mackay, PC, MP
125 Sussex Dr. 10th Floor
Lester B. Pearson Building, Tower A
Ottawa ON K1A 0G2

April 26, 2006
Dear Minister,
Recent charges that Chinese labour camps, prisons, hospitals and related facilities have been actively harvesting organs for profit, without consent, from live Falun Gong prisoners of conscience is a serious matter that requires urgent action from the international community, including Canada.
Since these allegations came to light, reports have suggested that the Chinese regime has been secretly relocating prisoners, including the Sujiatun underground camp. Meanwhile some hospitals in China allegedly increased the number of transplant operations.
These chilling reports are consistent with those from other sources, including Amnesty International and UN Special Rapporteurs, about the communist regime's state-sponsored torturing and killing of Falun Gong practitioners since 1999, as well as its history of prisoner organ harvesting.
I have been informed by a group of my constituents that, three weeks after the alleged death camp at Sujiatun was exposed by witnesses, the communist regime issued a statement denying the existence of the concentration camps and invited governments and journalists to investigate. Canadians must not become complicit by keeping silent. We must investigate and my constituents look to you for leadership in this matter.
My constituents ask you to urge the Chinese authorities to:
Allow the Coalition to Investigate the Persecution of Falun Gong in China access into China to freely research the facts of the persecution of Falun Gong; and

Open for international investigation all facilities holding Falun Gong practitioners; and

Release all wrongly-imprisoned Falun Gong practitioners
Could you please let me know what our new Conservative government is doing to investigate these allegations and, should they prove to be accurate, what our government will do to encourage human rights and freedom of conscience in China.
If I can be of assistance to you in the future, please do not hesitate to contact me.
Yours truly,
Pierre Poilievre MP
Nepean-Carleton.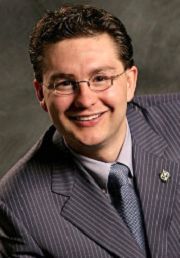 MP Pierre Poilievre