Canada MP David McGuinty Writes to Minister of Foreign Affeirs: "Falun Gong Practitioners Are Being Used to Provide a Steady Source of Human Organs on the Black Market"
(Clearwisdom.net) On March 29, 2006, Canada MP David McGuinty wrote a letter to Hon. Peter Gordon MacKay, Minister of Foreign Affairs, concerning black market of human organs from Falun Gong practitioners in China.
March 29 2006
Hon. Peter Gordon MacKay, P.C., M.P.
Minister of Foreign Affairs and
Minister of the Atlantic Canada Opportunities Agency
House of Commons
Ottawa, Ontario K1A 0A6
Dear Mr. MacKay:
I am writing to you on behalf of constituents, who are Falun Gong practitioners, and wrote to me concerned with the atrocities that are reportedly going on at a concentration camp in Sujiatun District, Shenyang City, in northeast China.
The allegations that Falun Gong practitioners are being used to provide a steady source of human organs on the black market is a very disturbing matter.
Please advise how you intend to proceed with respect to the allegations made by my constituents in their attached correspondence.
Thank you very much for your assistance.
Sincerely,
David McGuinty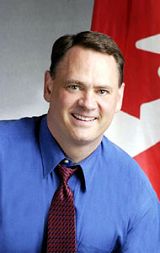 MP David McGuinty