New Zealand: Rally Supporting Ten Million Withdrawals from the CCP (Photos)
May 02, 2006 | By a practitioner in Auckland
(Clearwisdom.net) On April 29, 2006, people from all circles in New Zealand rallied on Elizabeth Square in downtown Auckland to support the ten million people quitting CCP and its affiliates, and to condemn CCP atrocities of harvesting organs from live practitioners.



The rally venue
In a speech on the rally, Ms. Chen Feng said on behalf of New Zealand Branch of the Quit the CCP Global Service Center, "The ten million withdrawals from the CCP are a miracle in China's isolated society under tight control of CCP tyranny. It means that nobody can block the historical movement." She called on the public to condemn the atrocities the CCP has committed, and to help to conduct an independent investigation into the crimes of excising organs from living practitioners in China.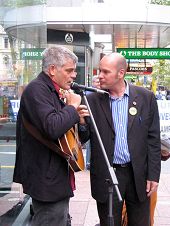 A singer on the street sang "No more CCP " while the parade passing by"
Practitioner Leon of New Zealand said in his speech that the two witnesses came out last week. CCP is good at cover-ups and lies. Mounting evidence shows that the atrocities are happening in China. This has crossed the bottom line of human morality. Many people still remain silent. It is a test for everyone to make a choice between money and conscience.
| | |
| --- | --- |
| People learn the facts and sign a petition | People learn the facts and sign a petition |
Mr. Sam Murphy, Editor-in-Chief of the English Epoch Time New Zealand branch briefed CCP's each persecution against Chinese people in the history. He also told about the shocking facts of the CCP excising organs from living practitioners, and cremating their remains to destroy evidence. He pointed out that the CCP failed to keep the Epoch Times from speaking out righteousness voice. Then CCP attacked Epoch Times staff members, damaged printing equipment and harassed employees of Epoch Times. Mr. Sam Murphy asserted to CCP, "We will expose your every evil deed, let the entire world know the nature of the CCP." and "The Epoch Times will never fear CCP's intimidation."
Mr. Pan Qing, a democratic activist of New Zealand delivered a speech in the rally. He addressed that ten million people quitting CCP is just a start of getting rid of CCP tyranny. The latest exposure of CCP's atrocities of live organ removal indicates that CCP's days are numbered. Mr. Pan explained the anti-human crime with the facts that Nazi killed six million Jews in World War II and that the former Soviet Union killed tens of thousands of people in Gulag. He said, "Forgetting history would let it happen again". If we don't care about the atrocity in China today, miserable hardships will happen on us tomorrow. He believed that CCP will be buried by the awaken Chinese in the near future.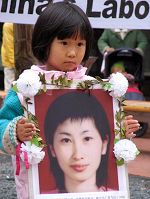 Little Kaixin says, "I don't have Mom, I miss Mom."
Entered New Zealand as a UN refugee not long ago, practitioner Mr. Huang Guohua and his daughter Kaixin also attended the rally. Little Kainxin said the innocent voice, "I don't have Mom, I miss Mom." The voice moved many people to tears in the rally. Leading Kaixin in one hand and holding a microphone in the other, Guohua exposed the persecution in China that he suffered and his wife were tortured to death. He stated that CCP's atrocities of live organ removal from practitioners showed that CCP is worse than Nazi, and is a real terrorist organization.