Columbus Dispatch: China's prisoner abuse unjust, protesters say (Photo)
(Clearwisdom.net) On April 26, 2006, The Columbus Dispatch, a newspaper in Ohio, USA, published an article written by Sherri Williams, exposing the atrocities committed in Chinese Communist regime's (CCP) prisons and forced labor camps where mass organ thefts have been practiced, in hopes that more people can show their concerns over this matter.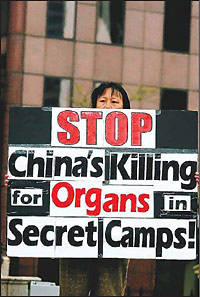 Karen Liu holds a sign during a protest at the Statehouse. Falun Gong practitioners in Columbus say more than 3,000 members have been killed in Chinese prison camps since 1999.
The article introduced that last week, Ms. Wang Wenyi shouted at Hu and President Bush to stop the persecution of Falun Gong in China at the White House. Yesterday, about a dozen people raised their voices at the Ohio Statehouse to bring attention to what they called murderous organ harvesting in that country. They said prisoners in China, many of them religious dissidents such as members of Falun Gong, have had their organs removed while they were still alive, killing them.
The article stated that Chinese organ harvesting made news in recent weeks after a journalist and a former hospital worker spoke out. It also cited the U.S. State Department's human-rights report on China released last month, pointing out that executed prisoners are among the sources of organs used for transplants. Between several hundred and a few thousand Falun Gong members have died in prison since the CCP regime started persecuting Falun Gong in 1999.
The article also mentioned U.S. Rep. Chris Smith, R-N.J., who heads the House subcommittee on Global Human Rights who said last week that, according to China's Ministry of Health, more than 65,000 transplants have been performed in China since 1993. Also, China's deputy health minister recently said that 95 percent of the organs were from executed prisoners.
The article reported that protesters yesterday handed out a copy of what they said was the China International Transplantation Network Assistance Center's Web page. It advertised a maximum two-month wait for a liver transplant and a one month wait to find a kidney donor. Those pages do not appear on the Web site now. Those in need of such transplants in the U.S. typically must wait years.
The protesters held photos of a crudely cut body of a man whom they say had been imprisoned in China.
The article quoted spokesperson for Falun Gong Lucia Dunn, an economics professor at Ohio State University, "People of conscience all over the free world must know this story and speak out for justice," "Today, April 25th, is actually Holocaust Remembrance Day," Dunn said. "What better time than today to stand up and say 'never again.' "
Larry Zhang, 30, a native of China and a senior marketing analyst, attended protests in Washington during Hu's visit. Zhang said he heard the former hospital worker who saw the Chinese concentration camps speak at a rally. "This is very important, more important than the money," he said, referring to the recent U.S.-China economic talks. "What's the point of doing trade with them when horrible things are going on in China?"
Karen Liu, 39, a software engineer who has lived in the U.S. for about 15 years, said she attended yesterday's rally to bring attention to the human rights abuses. "People are losing their lives at any moment," she said. "Every bit of support makes a difference. The more people know, the less they will do this."