Vail Daily (Colorado): Art depicts banned spiritual movement in China (Photos)
May 10, 2006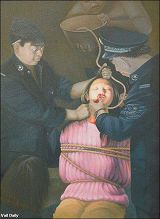 "Force Feeding," by Wang Weixing.
AVON -Practitioners of Falun Gong want the world to know that something along the lines of a Holocaust is in the works in China at the moment. They say a sort of witch hunt is underway focusing on believers of their benign spiritual practice.
Falun Gong, also called Falun Dafa, is something along the lines of Qigong or yoga, which teaches individuals a series of exercises, body poses and meditations with the aim of relaxation, peace of mind, and self-improvement.
The intricacies of the practice might be confused for anyone who takes a look at the May art exhibit at the Avon Public Library.
On one wall, the display shows paintings by Chinese artists of individuals in deep meditation and peace, but on another are paintings of individuals being tortured and abused.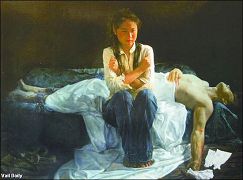 "A Tragedy in China," by Yuan Li. The exhibit of Chinese art at the Avon Library shows many paintings depicting China's persecution of those who practice Falun Dafa, a system of exercises and body poses directed at self-improvement. Preston Utley/Vail Daily
The exhibit is meant to draw attention to Falun Gong, which was banned by the Communist Chinese government in 1999, and the fact that practitioners are, according to local Falun Gong practitioners, being tortured and killed. Most recently, said Jim Fogarty of Leadville, a Falun Gong practitioner and organizer of the Avon art exhibit, the Chinese government is capturing Falun Gong practitioners, placing them in camps and harvesting their organs.
"This is a really big deal," said Fogarty, who will offer a free presentation of Falun Gong at the Avon Library at 3 p.m. Saturday. "It's difficult for people to believe that these kinds of things are happening for no reason. When you walk in and see the paintings, it's not to convert anyone. If they feel a connection, they can approach (the practice of Falun Gong) and learn more about it. The paintings say a lot. I hope it causes some reaction and a desire to learn the truth about it."
Falun Gong was brought into the American spotlight last month when Wang Wenyi, a 47-year-old journalist for The Epoch Times,[...] began shouting during Chinese president Hu Jintao's appearance at the White House.
According to reports, Wenyi was screaming at Jintao to stop oppressing the Falun Gong, and pleading with George Bush to stop the communist president from killing Falun Gong practitioners. According to Reuters.com, Wenyi was charged with a misdemeanor for harassing, intimidating and threatening a foreign official.
"I think people really are interested, especially after the outburst at the White House," Fogarty said. "What her outburst was about was that she had learned of the Communist regime's system of camps harvesting organs from practitioners. I think this will lead to a lot of attention toward these persecutions. It will bust it wide open."

"In Harmony" by Xiao Ping. This is one of 40 prints on display at the Avon Library this month depicting the Chinese spiritual practice of Falun Gong.Preston Utley/Vail Daily
Why do the Communist's hate Falun Gong?
Fogarty said that people immediately want to know why the Chinese government would feel so threatened by a practice such as Falun Gong, which is directed toward an individual pursuit of three principles -truthfulness, compassion and tolerance.
He said the government is threatened by the rapid influx of individuals adopting the Falun Gong practice. In the 1990s, the ancient practice was introduced to China by Li Hongzhi, who wrote the book, Zhuan Falun. [...]a large number of people across the world immediately saw merit in the exercises and began practicing Falun Gong.
"By 1999 (when, according to Reuters, Falun Gong was banned in China), they had 100 million practitioners, which was double the number of communist party members," Fogarty said. "They perceived it as a threat and persecuted it."
Fogarty discovered Falun Gong about four years ago, having downloaded [Mr. Li] Hongzhi's book and some videos. Initially, he said, he just began doing the exercises for an hour or two a day, as a person does yoga, but then the practice and its virtues began to envelope his life.
He said a key element in Falun Gong's self-improvement is the cultivation of a person's XinXing - a Chinese word meaning "heart nature." Since beginning Falun Gong, Fogarty said he has been able to rid himself of "destructive behaviors" like drinking and getting temperamental with people around him.
"Falun Gong focuses on body poses, but you're constantly trying to improve yourself and your nature," Fogarty said. "When you do that, things can happen to you. I had some destructive characteristics. I didn't go into it looking to remove those, but it just happened. I learned to see things and let them go."
A graphic display of persecution
The Falun Gong exhibit will be on display at the Avon Library through the month of May. Library artist contact Kelly Mitchell said she felt she was taking a risk with the exhibit, but that it has received positive interest so far.
"I'm surprised we haven't gotten more of, 'I can't believe you put that in there,'" Mitchell said. "More people are saying, 'Wow, that's powerful.' All the brochures are being taken and we're seeing a lot of people interested. I was a little worried. But we figured we had put up displays of the Holocaust, and this was a similar graphic exhibit. People have received it well."
A free Falun Dafa presentation will take place at 3 p.m. Saturday at the library. A local group of Falun Dafa practitioners meets at 7 p.m. every Wednesday at the Community Center in Frisco. For more information, visit www.faluninfo.net.