Singapore: Falun Dafa's Light Shines on the City of Merlion (Photos)
May 18, 2006 | By a practitioner in Singapore
Master lectures at the opening ceremony of the establishment of the Falun Buddha Society (Singapore)
(Clearwisdom.net) A Merlion statue, standing on the bank of a river, greets groups of guests from the world day after day. As groups of tourists arrive, they see the statue, but also to their surprise, they see Falun Gong practitioners doing their exercises.
Singapore practitioners steadily walk on the path of the cultivation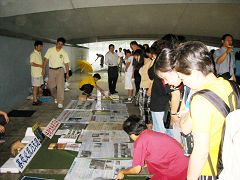 Singapore practitioners clarify the truth at Esplanade Park
Falun Gong was introduced to Singapore in1994. Starting in 1995, practitioners in Singapore have gone to Beijing, Dalian, Changchun and other cities of China to share experiences with local practitioners.
On July 19, 1996, the Falun Buddha Society (Singapore) obtained the government's approval and was officially registered. On July 28, 1996, the founder of Falun Gong Mr. Li Hongzhi was invited to attend the opening ceremony and delivered a speech. Master's calligraphic inscription for "Falun Buddha Society (Singapore)" has become a precious gift for Singapore practitioners. From 1997 to 1999, the society organized over a dozen workshops and introductory sessions, each hosting dozens to more than one hundred participants.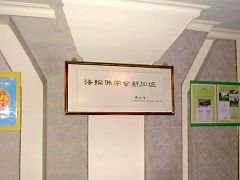 Master inscribes the name for "Falun Buddha Society (Singapore)"
Zhuan Falun in different languages
From August 22 to 23, 1998, a Falun Dafa Cultivation Experience Sharing Conference was held at the World Trade Center in Singapore. More than two thousand practitioners from all over the world attended, sharing what they had learned in the process of cultivation. Master Li Hongzhi attended the conference and gave a talk, and answered the practitioners' questions. In January 1999, the Chinese version of Zhuan Falun was officially published in Singapore.
| | |
| --- | --- |
| | |
| A free introduction session and workshop | A free introduction session and workshop |
| | |
| Attending the World Book Expo to introduce Falun Gong | Attending the World Book Expo to introduce Falun Gong |
Truth clarification film reception
Practitioners' golden banners and waist drum team showed in a parade
On April 25, 1009, over ten thousand practitioners went to Beijing to appeal peacefully. The next day, practitioners in Singapore went to the Morning Press (Lianhe Zaobao) and The Straits Times to introduce the facts to reporters and editors. Afterwards, practitioners went to the Chinese Embassy to Singapore to explain many times, and they wrote letters to Chinese leaders, the Chinese ambassador and other officials to explain that "Falun Dafa is good."
On July 20, 1999, Chinese Communist regime publicly launched the suppression of Falun Gong. In less than twenty hours, practitioners organized a press conference at the Westin Hotel the next day. Over ten media outlets in Chinese or English attended, and practitioners delivered an announcement regarding the news from the Chinese Central Television about Falun Gong, denouncing the Chinese Communist regime's slandering of Master Li and Falun Gong. In November, practitioners set up the first "Falun Dafa Truth Clarification Picture Exhibition" at the Carlton Hotel and aired the TV program "Falun Gong: the Real Story."
On November 10, 2001, the Chinese Embassy hosted a poster exhibition slandering Falun Dafa in Singapore. Practitioners held a press conference the same day and delivered an announcement to refute the slander. Many practitioners participated in the opening ceremony of the exhibition. They distributed truth clarification materials in front of the Chinese ambassador and other officials, as well as over a hundred guests.
After the persecution started in 1999, practitioners in Singapore have not backed down when facing the pressure. Practitioners realized that this is an extension of cultivation from the initial personal health improvement to going against the persecution and truth clarification to save people. Practitioners have tried multiple ways to expose the lies the Chinese Communist regime spread. They have been posting Falun Dafa introduction materials on local Chinese, English and other language newspapers, and have organized over twenty introduction sessions and workshops. Practitioners also held many press conferences and film receptions, and have actively participated in the Book Expo and other exhibitions, trying to introduce Zhuan Falun and other Dafa related books to people in Singapore. In the annual Big Walk parade in Singapore, one can also see the practitioners' golden banners and unique waist drum team.
Practitioners live frugally and use their time and money to make and distribute truth clarification materials. In the past 6-plus years, they have been to residential buildings, delivering truth clarification materials and clarifying the truth to one home after another; they went to construction sites, subway stations and business districts to tell people "Falun Dafa is good"; they have flown to Geneva, Iceland, Hong Kong, Toronto, Manhattan, Washington DC... etc, to tell the facts to the entire world. The fliers, newspapers, posters, phone calls and faxes have continually passed the facts to the Chinese people.
Practitioners clarifying the truth at scenic spots
Truth-clarification exhibition
Over three hundred thousand copies of materials and CDs have been mailed from Singapore to China. Among the practitioners, there are seniors in their 80s, workers, business owners, drivers, teachers and housewives, and young kids.
| | |
| --- | --- |
| Celebrating World Falun Dafa Day in 2004 | Singapore practitioners form the Chinese characters meaning "Fa-rectification" |
Tourists from around the world have found Falun Gong in Singapore. There were flight attendants from Australia, young men from Russia, backpackers from England, workers from China, and high school teachers from India have all practiced and studied together with practitioners from Singapore.
Singapore practitioners send New Year Greetings to Master
Master Li said:
"So no matter how few Dafa disciples there are in a certain place, that is hope for that ethnic group." ("Teaching and Explaining the Fa at the Metropolitan New York Fa Conference")
Practitioners in Singapore have overcome difficulties with firm steps, moving forward to stop the persecution. Hope is surging in the small island.