Canada: The Song, "Please Help Our Family Members to Return Home" Reverberates in Front of Parliament (Photos)
April 07, 2006 | By a practitioner in Toronto 	
(Clearwisdom.net) "I miss my mom, I miss my daddy. They cannot return home because they are persecuted for practicing Falun Gong, following Truth, Compassion, Tolerance. I miss my children, I miss my spouse. They are forced to flee to avoid persecution because they tell the truth. We call on everyone with justice. We call for an end of the persecution to kind innocence. People, please offer your help to assist our family members to return home."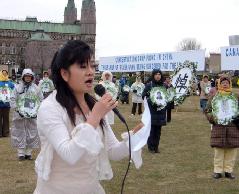 Ms. Bai Xue sings a song titled "Please help our family members to return home"
This is the song that renowned singer Bai Xue sang in front of the Canadian Parliament on April 3, 2006. The song is titled "Please Help Our Family Members to Return Home".
It was around Qingming-Chinese Memorial Day. The weather was cold, windy and rainy. More than 150 Falun Gong practitioners gathered in front of Parliament to commemorate those practitioners tortured to death and called on the Canadian Government to intervene and investigate live organ removal from practitioners imprisoned in the Chinese Communist Party (CCP)'s secret concentration camps. Five members of parliament (MP) gave speeches to support and greet the practitioners in the rain.
The solemn song touched passers-by. The practitioners standing in the cold wind moved the passers-by. People came forward to get information about the atrocities occurring in China. Some signed the petition to support Falun Gong, some came to interview and some joined the gathering.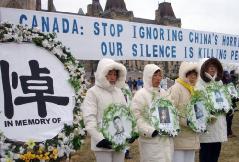 Sorrowfully commemorating fellow practitioners tortured to death in China
1. "The MP had tears when he shook hands with me."
MP Borys Wrzesnewskyj of the Liberal Party of Canada said that he stepped out to support Falun Gong. He was moved by the practitioners' persistence. It is most horrible once the CCP's removal of body organs from dissidents is verified because 1.3 billion people live under such horrible tyranny.
After the speech, he walked towards the practitioners holding posters, shook hands and greeted each one, "Take care. I support you!" The practitioners answered, "Thank you for your support!"
A practitioner told the correspondent, "I did not hear clearly what he said to me. The MP had tears when he shook hands with me."
2. A local resident joins the petition and gives a speech
A local resident, Ms. Simone Bourne signed the petition and volunteered to give a speech. She said that she heard of the rally from The Epoch Times and specially took two days off to participate in the rally. She said, "We must do what we should do and tell the CCP to immediately stop the torture and killing. People are persecuted to death for their spiritual belief and the organs are harvested from living persons. There is no excuse for such wrongdoing. Before the matter becomes worse, the Canadian Prime Minister and MPs should stand out to speak."
3. Voice of Ms. Zhu from Shengyang
Ms. Zhu said in her speech, "My husband and I came from Shenyang. We lived there for our first 30 years' of life. We have many memories and acquaintances there. How cruel that such crimes against humanity have occurred in the Sujiatun Concentration Camp located in a city for where I have good memories of home, little friends when I was young, classmates, colleagues, sisters' classmates, friends and colleagues, parents' friends and colleagues and acquaintances. It is possible that one of my high-school classmates is one of the doctors in the concentration camp and is removing a kidney of a classmate of my sister, even though he is still alive. His wife and children eagerly await for his return home... It sounds horrible, like a terror film, but it is real. I hereby call on Prime Minister and MPs representing the Canadian people to stand out and help stop the inhuman persecution."
4. "Daddy, the grass in the lawn is crying."
The four-year-old little practitioner Yuanyuan followed her parents to join the rally after overnight travel from Toronto. She and 3-year-old Meilian held posters and joined the commemoration in the rain. After listening to the song of Ms. Bai Xue, Yuanyuan told her father, "Daddy, the song is very nice." She then looked at the grass in front of her and said, "Daddy, the grass in the lawn is crying."