Colorado: Practitioners Continue Exposing the CCP's Crimes at the Sujiatun Concentration Camp (Photos)
April 07, 2006 | By a practitioner in Colorado
(Clearwisdom.net) Several witnesses have stepped forward to expose the CCP's atrocities at the Sujiatun Concentration Camp: harvesting organs from living practitioners for sale and cremating their remains to destroy the evidence. To help more people learn about the CCP's atrocities and call for en end to the CCP's brutal persecution of Falun Gong, from March 16 to April 2, 2006, practitioners in Colorado unfurled banners, set up posters, distributed truth-clarification flyers and collected signatures on a university campus, in front of a media office building, on sidewalks of busy streets and in shopping centers.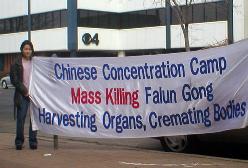 Practitioners in Colorado hold banners to expose the CCP's atrocities in concentration camps in front of the Denver Post Newspaper and CBS4 TV station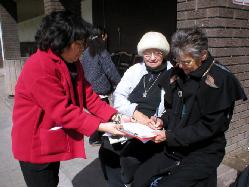 Signing to support the effort to oppose the persecution of Falun Gong
Practitioners held banners reading, "Chinese concentration camp, mass killing of Falun Gong, harvesting organs, cremating bodies", and "Support 9 millions people renouncing CCP". Drivers of many cars passing-by showed support by honking their horns. Many people asked for flyers after rolling down their windows. One Chinese lady came forward to ask for a flyer and said to a practitioner that she knew about the CCP's horrible persecution of Chinese people.