Summary of Worldwide Support For Falun Gong Practitioners' Efforts to Expose and End the CCP's Atrocities (Photos)
April 30, 2006 | By He Yu
Summary Report
(Clearwisdom.net) In March 2006, the crimes of organ removal from live Falun Gong practitioners in Chinese Communist Party's (CCP) concentration camps, labor camps, prisons and hospitals were exposed. The international community was shocked at the atrocities. People around the world condemned the CCP's barbarity and called for the rescue of the imprisoned practitioners. They also supported the effort of the "Coalition to Investigate the Persecution of Falun Gong in China" to initiate an independent investigation to bring an end to the CCP's genocide against Falun Gong practitioners.
A. Support from United Nations and related organizations, VIPs from every country and international NGOs
1. Illinois State House of Representatives Passed Resolution to Condemn Harvesting of Organs from Live Falun Gong Practitioners in China
Whereas, Falun Gong is a peaceful and nonviolent form of personal belief with million of adherents in China and elsewhere; and

Whereas, Falun Gong has been persecuted for 6 years by the Chinese Communist Party, as documented by the U.S. Department of State, the U.S. Commission on International Religious Freedom, Amnesty International, Human Rights Watch, and many other governmental and third party organizations; and

Whereas, This persecution of the Falun Gong has involved the widespread use of torture; and

Whereas, The Chinese Communist authority is persecuting Falun Gong practitioners with this policy: "Defame their reputation, bankrupt them financially, destroy them physically"; and

Whereas, Over 2,800 Falun Gong practitioners have died from documented abuse, and some of their bodies were missing internal organs; and

Whereas, In Sujiatun, a suburb of the Chinese city of Shenyang, thousands of Falun Gong practitioners are held in a prison camp contrary to the laws of China and in violation of their human rights; and

Whereas, The Sujiatun prison camp is adjacent to a complex that contains 3 hospitals; and

Whereas, In the prison at Sujiatun the organs of Falun Gong adherents are harvested while they are alive, and their bodies are immediately cremated; and

Whereas, The harvested organs are then used by the hospitals associated with the prison for transplants, with the customer for these transplants often being individuals from the United States; and

Whereas, A witness, who worked at one of these hospitals and whose ex-husband, a surgeon, helped perform the organ harvesting, estimates that 4,000 Falun Gong practitioners have died in the past 5 years through this organ harvesting; and

Whereas, Chinese President Hu Jintao will make an official visit to the United States in April 2006; therefore, be it

Resolved, By The House of Representatives of The Ninety-Fourth General Assembly of The State of Illinois, that we call upon the Chinese Communist Party to stop persecuting Falun Gong practitioners; and be it further

Resolved, That we urge the United States government to investigate organ transplants in China and take all reasonable steps to bring an end to the revolting practice of harvesting organs from living prisoners for transplants; and be it further

Resolved, That we recommend to President Bush that he should discuss with Hu Jintao the harvesting of organs from living Falun Gong practitioners when President Bush meets the head of the Chinese Communist Party in April; and be it further

Resolved, That we call upon the United States government to prohibit any doctors who performed transplants using organs harvested from living prisoners, such as those at Sujiatun prison, from gaining entry into the United States; and be it further

Resolved, That we call upon the United Nations, the International Committee of the Red Cross, Amnesty International, or other human rights organizations to each begin an investigation into these atrocities and provide a copy of its investigative report to the United States Congress and to the General Assembly; and be it further

Resolved, That a copy of this resolution be presented to the Falun Gong practitioners of Illinois and that a copy of this resolution be delivered to the President of the United States of America, George W. Bush, the United Nations, the International Committee of the Red Cross, and Amnesty International.
Adopted by the House of Representatives on April 19, 2006.
Michael J. Madigan, Speaker of the House
Mark Mahoney, Clerk of the House
2. City Government of Union City, California asks for thorough investigation of atrocities in CCP's labor camps
On March 28, 2006, the city council of Union City passed a resolution. On April 18, the mayor and deputy mayor wrote to President Bush:
"It is alleged that over the past years, hundreds of Falun Gong practitioners have been illegally detained in prisons, labor camps, and hospitals for refusing to denounce their beliefs. Many have disappeared without a trace. Also, we believe there are allegations that there is a harvesting of the detained practitioners organs. If this is true, it would be in direct violation of international covenants we believe that the President of the United States has a responsibility to raise this issue and call for a full investigation of these charges when you meet with Hu Jintao during his scheduled visit in April.
"... The world media reported little of the Holocaust while it took place and it wasn't until the Allied forces liberated the concentration camps that everyone learned the horrifying truth of what took place within them. It was said that when good people remained silent, evil prevailed.
"What was lost in the Holocaust cannot be recovered. But the costly lessons taught by the millions who perished should be cherished and not easily forgotten. We ask that the US government take action to call for the immediate stop of the persecution against Falun Gong practitioners and human rights violations."
3. Colorado State passes a resolution to condemn CCP's organ harvesting concentration camps
The Colorado State Senate and House of Representatives passed joint resolution 06-027 on April 2. The resolution condemned the CCP's extension of persecution to the United States and the CCP's organ harvesting in concentration camps.
Representative Berens, a co-signer of the resolution, was harassed by the Chinese consulate for issuing a proclamation to Falun Gong. He testified in the assembly that the CCP not only persecutes its own citizens but also intimidates Americans who speak for others' freedom.
Representative Penry said in his speech before voting for the resolution that China was an important trade partner, but that does not mean that the CCP's killing of its citizens can be ignored. The U.S. should stand up to state that this is unacceptable.
4. US Senior Congressman, "It's time for the civilized world to say 'no' to the monsters that are tearing apart people in China"
On April 4, 2006, US Congressman Henry Hyde said when interviewed about the CCP's live organ removal that One aspect of democracy is freedom of belief. He believes the Chinese people on the mainland should freely practice Falun Gong and other religions, so long as the religion poses no harm to the political system. He hopes Falun Gong practitioners will be free of any harm.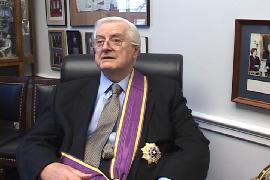 US Congressman Henry Hyde
On April 7, regarding the atrocities in the Sujiatun Concentration Camp, US Congressman Dana Rohrabacher said, "This is gruesome and clearly beyond the moral standard of almost every country that I know. It's time for the civilized world to say 'no' to the monsters that are tearing apart people in China."
Mr. Rohrabacher said, "We, as legislators, as statesmen and Americans, must not also become complicit in these crimes by keeping silent. History cares not whether we inked another trade deal or helped sell another Boeing 747, but history will judge us if we choose to look the other way when faced with truly indescribable human suffering on this scale."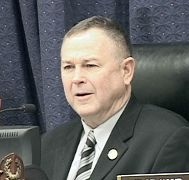 Congressman Dana Rohrabacher
Congressman Rohrabacher noticed the surge of organ transplant centers in the past few years in China, and said, "On the website for just one transplant center, the Oriental Organ Transplantation Center in Tianjin (www.ootc.net), we could see a graph of their 'achievements' showing the number of procedures growing by leaps and bounds after 1999, the year the persecution of Falun Gong officially began."
Congressman Rohrabacher pointed out that many people like to think that China is a good place to do business and make money, but they don't want to recognize that the people running China are involved in monstrous crimes that no civilized person would be associated with. "Now we have ignored so many bad things that they have done, the Chinese communist expects to ignore this as well. That doesn't mean the rest of our country has forgotten these values."
Congressman Rohrabacher continued, "We have a responsibility to have our President express America's strong wish to have a full investigation of these charges and demand an explanation from Chinese leader Hu Jintao during his upcoming visit and an agreement to allow on-site third-party investigations. I think you will agree this is the least we can do."
"It's important to the elected people in the United States to speak loudly on behalf of the entire American people to let those suffering in China and around the world know that we are on their side. We are on the side of those people who are being oppressed, not the brutal dictators who control them,"
5. Canada must object to persecution of Falun Gong
On April 3, 2006, in the cold wind and rain, all circles gathered in Ottawa and held a rally to support Falun Gong practitioners.
Canadian Member of Parliament Bruce Stanton said, "I was shocked at the revelation of this news. We can't believe that when the memory of the holocaust during WWII is still so clear in our minds, such things continue happening in the world."
He believes that the Canadian government should take a stronger position on the human rights issue, calling the persecution happening in China's secret concentration camps "intolerable."


Conservative Party Member of Parliament Bruce Stanton gives a speech
Member of Parliament Borys Wrzesnewskyj also attended the activity. He said, "Once it is proved that the CCP cuts out organs of spiritual people and dissidents, this is the most horrible situation, because 1.3 billion people are living in an environment of terror." Mr. Wrzesnewskyj emphasized that the Canadian people cannot "only see the money (bank notes) but forget about the price to be paid for earning these bank notes."


Parliament Borys Wrzesnewskyj greets and shakes hands with practitioners
MP from Bloc Quebecois, Maria Mourani, promised to try her best to urge the Prime Minister to conduct an investigation. The same day, her assistant read a letter of support on her behalf. The letter stated, "Your efforts have let us know about the CCP's killing Falun Gong practitioners for their organs to make a profit." The letter said, "It is unacceptable that a government allows the use of torture on its people."
Maria promised, "I'll try my best to urge Prime Minister Harper to conduct a joint investigation on this matter in the United Nations."
MP Peter Julian said that Canada should exert pressure to ensure the international community will conduct an independent investigation. He said that Canada should stand up to speak, especially in the policy of trade, and make clear its position towards the people who trample upon human rights, and oppose the persecution of Falun Gong, because such atrocities cannot go on any more.
Spokesperson for the Canada Green Party Eric Walton delivered announcement on March 29: "There is enough evidence right now to require a thorough investigation of this matter. The governments of Japan, Canada and America should join in the investigation, because there are citizens from these countries who have been involved in organ trafficking from China."
6. UN organizations: "It is our responsibility to stop such horrible atrocities."
On April 3 and 4, 2006, people from Europe, Taiwan, North America and Oceania, Swiss MPs and delegates from International NGOs held a rally in Geneva, strongly condemning the crimes at the CCP's concentration camps, where Falun Gong practitioners' organs have been removed and their bodies burned to eliminate the evidence.
Dr. Charles Grave from the International Organization of Beliefs stated:
"The International Organization of Beliefs supports Falun Gong and is shocked at the action of removing organs from human bodies in the CCP Concentration Camp. We hope that the incident will be made known to the world and be dealt with in the First Human Rights Council Conference of the UN."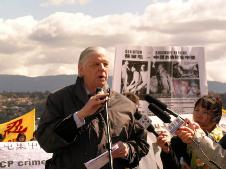 Dr. Charles Grave from the International Organization of Beliefs
The United Nations torture investigator, Mr. Nowak said, "I am presently in the process of investigating as far as I can these allegations ... If I come to the conclusion that it is a serious and well-founded allegation, then I will officially submit it to the attention of the Chinese government," (http://www.clearwisdom.net/emh/articles/2006/3/31/71419.html)
Mr. Oscar Freysinger, a congressman (from Berne, Switzerland) stated, "Communism has committed big crimes against humanity. When western countries turn blind eyes, they are accessories as well. The red empire and its subordinates are always ready for attacking. That is why the world's people all show special concern over their threats, and that is also why the world's people would rather think more about money and something theoretical than look at their actions. The weakness of western countries is indicated by the fact that they want to cover up this incident and avoid publishing any comments from the 'Nine Commentaries' so that they can suppress information about the bloody tragedy of genocide."
7. International Non-government organization, "We stand side by side with you."
Sylvia G. Iriondo, Chairman of "M.A.R. Por Cuba" from International NGOs in the UN (the branch in Cuba) stated, "We are condemning the extremely cruel events in the Sujiatun Concentration Camp in Northeast China. According to information given by several witnesses and media reports, 4000 Falun Gong practitioners have already been persecuted to death there. Their organs were removed when they were still alive and then their bodies cremated. We feel very painful whenever we hear that those who are asking for freedom of belief and speech as stated in the International Human Rights Convention are being persecuted. We are urgently requesting the international community to together call for the end of crimes against humanity and take action to rescue the 2000 Falun Gong practitioners who are still locked up in the Concentration Camp. The free and civilized world cannot keep silent and remain completely indifferent to these horrible incidents happening right now."
Mr. Rene Wadlow, a delegate of the Cosmopolite Organization in the UN expressed, "I agree with the value you place on 'Truthfulness, Compassion and Tolerance'. We have already pointed out many times the danger and threat brought by forced labor camps and concentration camps in China. The facts of persecution you have just disclosed are very serious. I think it necessary to have the UN investigate this incident. ..."
8. Hong Kong political circle calls for conscience
In Hong Kong a rally was held and parade entitled, "Call to Conscience, Stop the Killing" on April 17, 2006. People from all circles condemned the CCP's atrocities of harvesting organs from living Falun Gong practitioners. At the same time, they supported the proposal of Falun Gong practitioners around the world to call upon the international community to conduct a comprehensive and independent investigation into the CCP's forced labor camps and other related facilities.
Political leader Situ Hua from the Hong Kong Alliance pointed out in his speech that organ harvesting should only be done with agreement of the donors before their deaths. What has been happening in China's concentration camps such as Sujiatun is unacceptable and reminiscent of the Nazi concentration camps of World War II. As for the recent revelation of 36 similar concentration camps, if people of conscience do not stop the atrocities, then similar incidents will constantly occur. He called on the CCP's related authorities to immediately stop such atrocities. He also pointed out that there should be an international investigation group to look into the incidents, punish related officials, and expose any similar atrocities. He said, "The Sujiatun incident is a huge disgrace. As a Chinese person, I'm ashamed of this. I must support the statement of calling for conscience and stopping the killings."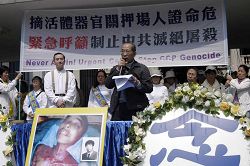 Situ Hua from Hong Kong Alliance makes a speech at the rally to condemn the CCP's atrocities
He Junren, member of the Hong Kong Legislative Council, stated that when he first heard of the incident of the Sujiatun Concentration Camp, he dared not believe it. The CCP authorities are obligated to completely open up the places that are suspected to allow people to see for themselves. As for the Sujiatun Concentration Camp and all of the forced labor camps in Mainland China. He demanded to allow trustworthy organizations to enter China to conduct a comprehensive, thorough and open investigation into forced labor camps, and invite victims and their family members to publicly testify.
He Junren expressed skepticism towards the CCP's hastily throwing out the "Interim Regulations for Human Organ Transplant Practice" that will not take effect until July 1. "Does that mean there would be a large number of people slaughtered prior to that time?" He called upon the CCP "to immediately stop all possibility of violent and inhuman crimes."
9. Taiwan Legislative Committee cosigns resolution condemning CCP's live organ removal
54 Legislative Committee Members Cosigned the Resolution, "Condemn the Atrocity of Harvesting Organs from Living Falun Gong Practitioners that Chinese Communist Regime Committed"
Taiwan Legislative Committee Member Lai Ching-Te, Tien Chiou-Chin and Huang Chao-hui sponsored an interim resolution to condemn the Chinese Communist regime's severe human rights violation, and to call for immediately stopping the inhumanity, and urge the international human right organization and WHO to send people to investigate the concentration camps, prisons and forced labor camps, as well as medical institutions.
On April 18, Lai Ching-te, spoke at the press conference outside the Legislative Yuan to "Condemn the CCP's Atrocities of Harvesting Organs from Living Falun Gong Practitioners and Urge the United Nation to investigate the Evil Crime".
B. Appeal from specialists and scholars
1. US and China economic expert: To have trade with China equals having trade with death camps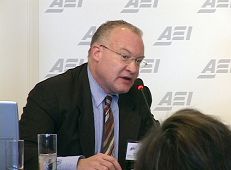 Ethan Gutmann, author of Losing the New China: A Story of American Commerce, Desire and Betrayal
2. Organ Transplantation Association of Canada: Organ transplantation is to save lives not to kill lives.
The vice Chairman of the Organ Transplantation Association of Canada, Dick Winter said, "This is so hard to believe. Canada does not play the most important role on the global political platform, but we should at least let the Chinese Communist regime know that we uphold righteousness. As to those Falun Gong practitioners who have died and those who were treated casually as organ vessels, my heart is with them."
3. Korea organ transplantation specialists: China's organ transplantation damages human morality
On April 8, 2006, at the Spring Conference of the Association of Korean Organ Transplantation, Korean specialists questioned China's organ transplantation situation and the new regulation.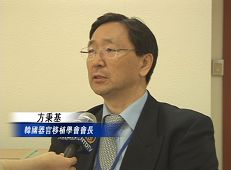 Director of Association of Korean Organ Transplantation
4. Taiwan Department of Health passes resolution: if any doctor participates in any form of organ transplantation in China, he is violating the law.
The Taiwan Medical Ethics Committee of the Department of Health passed a resolution on April 12 that if any doctor participates in any form of organ transplantation in China, he is violating the law. The committee members of the medical professional punishment will punish those according to the situation. In severe cases the license and doctor's certificate will be suspended.
5. Renowned Canadian human rights attorney: International judicial system must be enacted to stop crimes against humanity
In the rally on April 3, 2006, renowned human rights attorney, Mr. David Matas said that these atrocities are a new tragedy. Although the harvesting of organs from Falun Gong practitioners is news, the CCP's practice of killing people for organs is not news. If you check the internet, you can find many related cases happening over the past several years.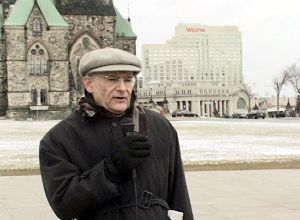 Canada's renowned human rights attorney, Mr. David Matas
6. Renowned Chinese human rights attorney Gao Zhisheng applies to join Coalition to Investigate the Persecution of Falun Gong in China

Attorney Gao Zhisheng holds hunger strike in his hometown in Shanbei, northwest China.
7. Renowned human rights attorney Guo Guoding: Based on fact and logical analysis, I assert that the Sujiatun incident is true.
8. Mr. Lin Mu, secretary of former CCP head Hu Yaobang, calls on international community to conduct a thorough investigation of Sujiatun Atrocities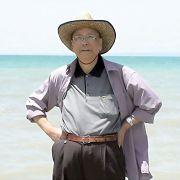 Mr. Lin Mu, secretary of former CCP head Hu Yaobang
3. Summary
After the exposure of atrocities in the Sujiatun Concentration Camp, the CCP lied on one hand and destroyed evidence on the other hand. After being silent for three weeks and making all the necessary preparations, a spokesperson for the CCP's Foreign Ministry denied the existence of Sujiatun Concentration Camp. Based on urgent investigation and inside news from China, large hospitals and organ transplantation centers began working overtime to conduct organ transplantation on a large scale. The hospitals said that there would be large number of organ donors before the end of April and the waiting time would be only a few days. Some hospitals admitted that the organs were from Falun Gong practitioners. This evidence shows that the CCP plans to destroy eyewitnesses and victims in concentration camps. The holocaust is occurring.
It has been nearly seven years since the CCP initiated the brutal persecution of Falun Gong practitioners. The CCP practices state terrorism against the practitioners, with a policy to "ruin [practitioners'] reputations, bankrupt [practitioners] financially, and destroy [practitioners] physically" and "the death of Falun Gong practitioners from beating is nothing and shall be counted as suicide; the body shall be directly cremated without investigating the person's identification." This genocide challenges the conscience of each person and government. It also tests the international community, and whether they can realize their promise 60 years ago when facing the Nazi's holocaust of Jews: "Never again".
It is time for us to stand up to help end the genocide and persecution of Falun Gong practitioners.