Central News Agency: Falun Gong Practitioners Protest the CCP's Live Organ Harvests in Kaohsiung (Photo)
(Clearwisdom.net) The Central News Agency reported on April 17, 2006 that it is said that the Chinese Communist Party would kill a large number of Falun Gong practitioners prior to May 1, 2006. Falun Gong practitioners from the Asia-Pacific region held a candlelight vigil tonight in Xizi Wan, in Kaohsiung City. Besides commemorating Chinese practitioners who have had their organs harvested when they were still alive, the vigil was also urgently called upon people from all walks of life to rescue the remaining innocent practitioners detained in prisons in China.
The vigil was the seventh commemorative activity held in the Asia-Pacific region following the activity held in Macao. Two hundred people, including participating practitioners and guests, wore blue ribbons that symbolize hardship, mourning and calling for human rights. The atmosphere was solemn and respectful. Member of the Kaohsiung City Council Chen Ying-Can also came to show his support. Legislative member from Kuomindang Huang Zhao-Shun, legislative member of Democratic Progressive Party Guan Bi-Ling and legislative member of the Taiwan Solidarity Union Zeng Can-Deng also sent representatives to attend.
Falun Gong practitioners broadcast an April 11th report from the "Sound of Hope" radio station, citing the investigation recording of some Chinese hospitals, which indicates that the CCP is killing Falun Gong practitioners detained in concentration camps on a large scale. The hospitals that were investigated spanned the entire country. Physicians from different places said that they "are operating overtime to do organ transplants prior to May 1, and there won't be much opportunity after this time." One of the physicians hesitated at first, and admitted later that the organs were from Falun Gong practitioners.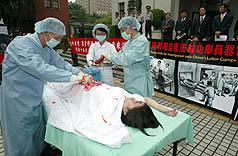 Falun Gong practitioners reenact the CCP regime's harvesting of organs from living Falun Gong practitioners and then selling them for huge profits.
Falun Gong practitioners held up photos of practitioners who have died as a result of persecution and some protesting banners, calling for an end to the persecution.
Representative of Falun Gong practitioners Peng Zhi-Yun put forward three requests: First, immediately conduct a complete investigation into the dark truth of the CCP harvesting and selling Falun Gong practitioners' organs. Second, immediately stop the persecution, and release all illegally detained Falun Gong practitioners. Third, request the United Nations and international community to immediately take urgent action, launching all mechanisms to stop the genocidal killings.
Professor Liu Shaodong from Kaohsiung Medical University expressed that organ donations are originally a noble act, so in autopsy classes at the medical university, teachers and students respectfully call the bodies for autopsy and research, "Body Teachers." It is hard to imagine that the innocent people in China have their organs removed while they are still alive and their organs are sold for huge profits.
Chen Ying-Can pointed out in deep grief that he often heard about Taiwanese people going to China for organ transplants. Today, he learned about this horrible fact. He expressed that everyone must stand up for what is right.