United States: Central U.S. Urgent Rescue Van Tours Set Off, Exposing the Truth Along the Way (Photos)
April 19, 2006 | By a practitioner in the U.S. Midwest
(Clearwisdom.net) In order to expose the atrocities of harvesting organs from living Falun Gong practitioners in the Chinese Communist regime's concentration camps and forced labor camps, and to rescue persecuted Falun Gong practitioners in mainland China, on April 15, 2006, the Central U.S. Urgent Rescue Van Tours set off and held press conferences in Chicago and St. Louis, Missouri. The two parts of the van tour will arrived in Washington, DC on April 18, 2006, to join the large-scale protest activities taking place in the nation's capital.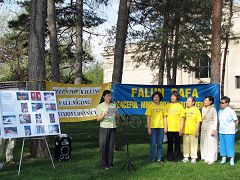 Falun Gong practitioners from St. Louis hold a press conference about the van tour in Forest Park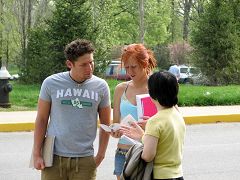 People are shocked after learning about the truth of the persecution
The van tour aims to extensively expose the Chinese Communist Party's (CCP's) persecution of Falun Gong, which has lasted for nearly seven years, to the American people and the government during Chinese President Hu Jintao's visit to the U.S. The van tour especially aims to expose the atrocities of the CCP's harvesting organs from illegally detained Falun Gong practitioners while they are still alive, a common practice in many forced labor camps and prisons around the country.
The second van tour holds a press conference in front of the Chinese Consulate before setting off from Chicago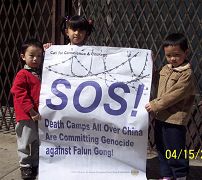 Young practitioners from Minghui School hold an "SOS" banner on the roadside
There are five Falun Gong practitioners participating in the Urgent Rescue Van Tour St. Louis Group. They are aunties in their 60s and 70s. At 9:30 a.m. on April 15, the practitioners from St. Louis held a press conference in Forest Park, a well-known St. Louis landmark, and read the statement explaining the purpose of the van tour. The five practitioners also each spoke about why they want to participate in the Urgent Rescue Van Tour.
Sixty-year-old Ms. Mao said at the press conference, "I am participating in this van tour because I cannot remain silent facing this most brutal genocidal killing. Jiang and the Chinese Communist Party have colluded with each other to persecute Falun Gong for nearly seven years. During these seven years, amidst people's silence, hesitation and indifference, tens of thousands of Falun Gong practitioners have suffered the most inhuman genocidal persecution in history, for being steadfast in their belief in 'Truthfulness-Compassion-Forbearance.' The mass killing has gone far beyond an issue of persecution of belief and human rights; it tests every person's soul, and urges every person, every government to make a choice between material benefit and conscience. This choice will ultimately determine the fate of everyone and every government." As President Bush will meet with the Chinese leader, Ms. Mao called on Mr. Bush to raise two questions to Hu Jintao: 1) Urge the CCP to immediately open all forced labor camps and prisons where Falun Gong practitioners have been detained, for an international investigation, and 2) Allow the "Coalition to Investigate the Persecution of Falun Gong" (CIPFG) to go to China to investigate the facts.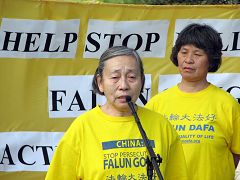 Falun Gong practitioner 73-year-old Ms. Kang from St. Louis speaks, choking with sobs
Seventy-three-year-old Ms. Kang said, choking with sobs, "Falun Gong practitioners cultivate 'Truthfulness-Compassion-Forbearance' to be good people, but they have suffered such outrageous persecution and killing. Everyone with a conscience should not keep silent on this. I am participating in this Urgent Rescue Van Tour to try my best to let more people learn about the truth..."
Falun Gong practitioner Ms. Li recounted her experience of suffering persecution in a CCP forced labor camp for practicing Falun Gong. She called on the American Government and governments of all countries and the media to pay attention to the inhuman persecution and demand the CCP authorities to release all detained Falun Gong practitioners.
Falun Gong practitioner Bill also spoke, calling on the American people and government and the media to stand up to stop the evil persecution.
In the afternoon, the Central U.S. Van Tours arrived at the Indianapolis City Hall in Indiana and held a press conference. A reporter from WISH8 News TV station in Indianapolis came to conduct an interview. After the press conference, practitioners continued distributing materials in the Indianapolis city center, and clarified the truth to passersby.
The Central U.S. Van Tours will hold press conferences and truth clarification activities while passing through several cities including Cincinnati, Columbus, Cleveland and Pittsburgh, among others.