Falun Dafa Spreading Rapidly in Taoyuan, Taiwan (Photos)
April 16, 2006 | Written by Ruifeng
(Clearwisdom.net) Taoyuan County, true to the Chinese meaning of its name, is a place that produces a lot of peach blossoms. Taoyuan is also home to Shimen Reservoir, which is known as the first reservoir in the Far East, and Zhongzheng International Airport, which accommodates over 20 million passengers from Taiwan and overseas each year. These scenes make Taoyuan County the "capital and national gate" of Taiwan. There are also many beautiful places of interest in this county, such as Cihu Mausoleum, Touliao Mausoleum, Jiaoban Mountain, Lalashanshen wood district, as well as varied multiculturalism, all of which make up the special picturesque scenes of Taoyuan County.
In this area, there is also a group of Falun Gong practitioners of different ages and walks of life. They all strive to follow the principle of Truth-Compassion-Tolerance in their lives. Maybe you have met them? They are usually smiling and spreading good wishes as they pass you a flyer. They sincerely and selflessly wish to share with you the beauty and happiness of cultivation practice! I would like to introduce to everyone the situation of how Falun Gong has spread widely in Taoyuan County.
1. Setting up Falun Gong groups - spreading to schools and institutions
Falun Gong practitioners come from all social levels, and since they have benefited physically and mentally from practicing Falun Gong, they often sincerely organize exercise teaching classes and Falun Gong groups on their own initiative to help more pre-destined people have the chance to understand Falun Gong.
* Legal institution sets up a Falun Gong group for the first time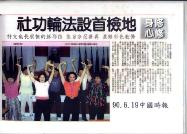 Interview and report by the Chinese Times Newspaper
On June 18, 2001, a Falun Gong group began at Taoyuan Prosecutors' Bureau, which was the first Falun Gong group in a judicial institution at that time. Around 50 people registered, including judges, secretaries, officials and clerks. The bureau's former prosecutor, Mr. Wang Tiansheng, and the current prosecutor, Mr. Chen Shouhuang, both encouraged the establishment of a Falun Gong group. Mr. Chen Shouhuang is a Christian. He was happy to see the Falun Gong group get going. What makes people show such strong support is that on the other side of the Taiwan Strait in Mainland China, the people in judicial institutions are not selfless officials, and have instead turned into goons bullying kind people. The difference is obvious - where in Taiwan the Prosecutor can approve of and support Falun Gong.
* Trend of cultivation started on campuses: Falun Gong groups set up and teachers' study camps organized
In order to help more people understand Falun Gong, some practitioners who are teachers started to set up Falun Gong groups one after another on campuses and organized Falun Gong teachings sessions for teachers. In this way they initiated an atmosphere of cultivating Falun Gong on campus. For example, Falun Gong practitioners who taught at Qingxi National Elementary School used their lunch break from Monday to Thursday to practice Falun Gong and studied the Fa on Fridays. Notice how everyone is attentive in the following pictures.
| | | |
| --- | --- | --- |
| group study during lunch break at a corner of the school corridor | Dazzling appearance of Falun Gong at the school games (2001) | More and more people attending the teaching sessions for teachers |
The thank-you note from Fengming National Middle School at Ying'ge Town for a Falun Gong exercise demo at the school anniversary celebration and sports games (May 18, 2002)
The sports games at Qingxi National Elementary School was the first time in the county that Falun Gong practitioners could demonstrate the five sets of Falun Gong exercises to the public. At that time, the school director admired the practitioners' willingness to volunteer their performance without taking any gifts. Other performing groups would ask the school for gifts or a free lunch. After this first event Falun Gong practitioners in Taoyuan started to actively attend sports games at different elementary and middle schools to demonstrate the exercises. This has made a big impact among people involved in education throughout the whole area. Many teachers and students learned about Falun Gong this way; some even started cultivating.
The students at Qingxi National Elementary School leave notes about their cultivation experience before they graduate. One student named Yaxin said, "In the past I had a nick name of 'crying girl,' and sometimes I would cry loudly if other students cursed me for just 2-3 sentences. After I began practicing Falun Gong, I became braver. Though sometimes I still could not completely stop myself from cursing or beating others, I believe that Falun Gong can help me improve my "xinxing," return to my original true self and gradually reach the realm of Truth-Compassion-Tolerance." This shows that children gradually and subtly change in cultivation.
2. The cradle to nurture kind children -- Minghui Holiday School
Group study classes for young disciples at Tao, Zhu, and Miao areas were started from August 18, 2002. The main purpose of these classes is to give young practitioners a stable cultivation environment and help them to follow the teachings of "Truth-Compassion-Tolerance" in their daily lives.
In the classes of Minghui School, the sound of the children's innocent laughter and recitation are often heard. The curriculum is designed to be lively and interesting, as well as to emphasize Falun Gong's principles of "Truth-Compassion-Tolerance" for the benefit of the children. The curriculum includes group study, group practice, music, fine arts, story-telling, art talent and skills, and the activity of clarifying the truth to the precious Chinese people in Mainland China. Though children by nature love to play, and have different schedules than adults, their simple enlightenment of Fa principles is often better than their parents.
| | | |
| --- | --- | --- |
| Art talent and skill performance | Lively and lovely pictures | Group practice |
| | |
| --- | --- |
| Young practitioners use mobile phones to clarify the truth | Attending the first experience sharing conference for young disciples (2003) |
One young practitioner who is studying at a national elementary school used to like playing computer games, but after practicing Falun Gong, she gave it up. Moreover, when she sees other students playing computer games or visiting dirty web sites, she will tell them that those things are not good. If they refuse to listen to her advice, she has designed a simple program that can block those bad web sites and computer games. More importantly, she also helps her mother and other senior ladies break through the technical questions that they run into when clarifying the truth on the Internet. She also started to clarify the truth to the Chinese people on the Internet. She finds that when she sincerely talks to Chinese people on the Internet, she can very easily clear up the lies that the Chinese Communist Party and Jiang Zemin's regime use to defame Falun Gong, and she can also help these Chinese people to understand the truth.
These naïve and joyful children remind us even more of those tens of thousands of poor children who are still being poisoned by the Chinese Communist Party and followers of the Jiang regime to be against Falun Gong. In Mainland China, young disciples of Falun Gong do not have a peaceful environment in which to cultivate; some of them are forced to leave school and some are forced into homelessness because their parents have been arrested or persecuted to death. Their wretched and miserable situations need more of the world's people's attention!
3. Activities to support stopping the persecution -- becoming a voice to the world
Although Falun Gong is becoming more and more welcomed in Taiwan, on the other side of the Taiwan Strait, the Chinese Communist Party (CCP) has been persecuting Falun Gong since July 20, 1999, and the CCP has extended its evil hands outside China. Falun Gong practitioners in Taoyuan County, together with practitioners all over the world, organize all kinds of activities simultaneously to help stop the persecution. We are extending our voice to the whole world, and appealing to human rights organizations and government officials for help. Therefore, besides the memorial activities on the anniversary of July 20, Falun Gong practitioners in Taoyuan have organized many other activities, such as the SOS Global Rescue Walk, the campaign against Hong Kong's Article 23 legislation, efforts to rescue Taiwan practitioner Lin Xiaokai from illegal detention in Shanghai, support for Falun Gong practitioners who were attacked by the Chinese Communist Party in South Africa, activities to rescue persecuted Falun Gong children, and the recent activities to raise awareness about the US practitioner who was violently attacked in his home. The following are some pictures of these activities:
| | | |
| --- | --- | --- |
| Memorial meeting for July 20 Anniversary on the front lawn of Stone Administration Bureau | Collecting signatures to stop Hong Kong Article 23 Legislation | Collecting signatures to support Lin Xiaokai in front of the train station |
| | | |
| --- | --- | --- |
| Bike tour group visits the county government | Activity to celebrate World Falun Dafa Day on May 13 (at Hutoushan Park) | Collecting signatures from local people about the attack incident in Atlanta) |
4. Support from high-ranking officials in the government
Through our activities, many ordinary citizens, council members, and legislative committee members have added their voices in calling for justice for Falun Gong and in expressing their support to Falun Gong. For example, council member Mr. Wan from Taoyuan County, along with citizen representatives Mr. Lv and Mr. Zhan, attended our display called the "Path of Fa-rectification" in 2003. These government officials did not have much previous knowledge about Falun Gong, but after attending the opening ceremony, they had a deeper understanding about the practice. One legislative committee member, Mr. Qiu, said that he found Falun Gong so wonderful that he also wanted to learn it together with his family. One council member, Ms. Huang, changed from misunderstanding and an indifferent attitude, to being moved by the practitioners' spirits and admiring Falun Gong practitioners. She also joined the Friends of Falun Gong group. Afterwards, she tried her best to attend and support all of our Falun Gong activities.
In addition, after coming to understand the actual situation of how the Chinese Communist Party persecutes Falun Gong, one Taoyuan legislative committee member, Ms. Yang Lihuan, said that no one could torture other beings at will, not to mention killing kind practitioners. She expressed her indignant attitude toward the persecution initiated by the Chinese Communist Party and Jiang Zemin's regime.
| | | |
| --- | --- | --- |
| Bestowing the banner of "Friends of Falun Gong" to Deputy Mayor Mr. Huang | Citizen representative Mr. Zhan made a speech | Legislative committee member Ms. Yang Lihuan came to support |
Council member Mr. Qiu Deshun also said that he admired Falun Gong practitioners and he called on more people to oppose the persecution. In addition, he questioned why a regime that persecutes such kind-hearted Falun Gong practitioners could have succeeded in being awarded the next Olympic Games? He used words such as "despicable" to express his viewpoints on the persecution by the Chinese Communist Party.
When meeting with the bike tour group for peace in 2004, Deputy Mayor Mr. Huang said that when he saw that Falun Gong practitioners have used peaceful and rational means to appeal to people over the past few years, it reminded him of Mr. Gandhi. When Falun Gong practitioners are being persecuted, they still spread the beauty of "Truth-Compassion-Tolerance" to people and hope more people can benefit from Falun Gong's teachings. Our actions also reminded him of a story about Shakyamuni. When Shakyamuni was going to be tortured to death by Dictator King Geli, he didn't forget to go back and save the King after he enlightened and became a Buddha. Such a spirit of compassion reappears in tens of thousands of Falun Gong practitioners.
The principals of many elementary and middle schools have also showed their approval of and support for Falun Gong. For example, the principal of Wenchang National Middle School said that any persecution should not be allowed, and the principal of Qingxi National Middle School, Mr. Wang, said he admired the noble spirit and high ideals of Falun Gong practitioners. He also greatly encouraged practitioners to continue with their efforts!