Taiwan: Falun Gong Practitioners Call for End of Persecution at Taoyuan C.K.S. Airport (Photos)
April 16, 2006 | By Xin Yi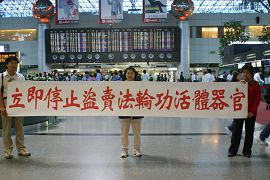 Falun Gong practitioners call for end of persecution of Falun Gong by the CCP at Taiyuan C.K.S. International Airport
(Clearwisdom.net) As the Chairman of Nationalist Party, Lien Chan, left Taiwan for a visit to Mainland China on April 13, 2006, Falun Gong practitioners in Taoyuan went to C.K.S. International Airport early in the morning to request Lien to convey the voice of 400,000 Falun Gong practitioners in Taiwan: Stop the persecution of Falun Gong. Stop harvesting living Falun Gong practitioners' organs in forced labor camps in Mainland China and make an immediate investigation.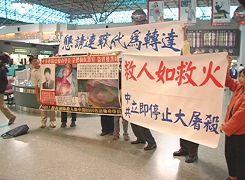 Falun Gong practitioners request Lien to convey the voice of 400,000 Falun Gong practitioners in Taiwan.
Falun Gong practitioner Zeng said that they came to the airport as early as 6 o'clock and visited the Seventh Branch of the Airline Police Bureau. Officers said they supported Falun Gong practitioners. Practitioners also clarified the truth and distributed flyers to members of Lien Chan's delegation. Some of them are CEOs, officials of National Security, representatives of public opinion and media reporters. Many of them had never heard about such inhumane crimes in Mainland China.
| | |
| --- | --- |
| Truth-clarification to media | Truth-clarification to delegation members. |
Falun Gong practitioner Ms. Luo said saving lives is as urgent as putting out fire. She couldn't help feeling anxious. News from Mainland China verified that the CCP is planning large-scale murder of Falun Gong practitioners before May 1. Doctors work 24 hours a day doing organ-transplant surgeries. Some Taiwanese have unknowingly received these organs and assisted with this crime. These patients will have so much on their conscience if they find out the organs were from murdered Falun Gong practitioners!
If every Taiwanese could treat this matter as urgently as Falun Gong practitioners and see the vile nature of the CCP clearly, they would cast away their illusions about the CCP. The days of the evil CCP would be numbered.