New Zealand: Supreme Court Holds Hearing on the Lawsuit Against Jiang Zemin (Photo)
(Clearwisdom.net) On April 10 and 11, 2006, the New Zealand Supreme Court held a hearing on a lawsuit filed by 11 local Falun Gong practitioners against Jiang Zemin, Li Lanqing and Luo Guan for genocide and crimes against humanity. Dozens of practitioners attended the hearing.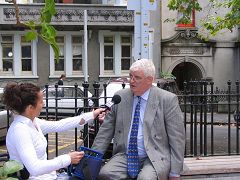 Practitioners' attorney Chris Laurence gives a media interview
During the hearing, attorney Chris Laurence expounded on the practitioners' documents submitted to the court. During his presentation, the attorney stated that the lawsuit charging Jiang and other persecution perpetrators with genocide and crimes against humanity has a far-reaching impact from the aspect of justice and conscience, even though it is a civil case. After listening to attorney Laurence, the judge stated that the case is very important and he will continue to collect comments and recommendations.
After the two-day hearing, the judge expressed his appreciation to people who attended the hearing. He said that he deeply understood that the people present were very concerned about this case. Due to its complexity and importance, he will process the case while taking similar cases in other countries into consideration.