New York: Falun Gong Practitioners Participate in Staten Island St. Patrick's Day Parade (Photos)
March 08, 2006 | Cai Ju, Minghui reporter
(Clearwisdom.net) The St. Patrick's Day Parade every March is a traditional celebration for Irish people in North America. The parade is characterized with green decorations, and is a grand occasion for the Irish community. Falun Gong practitioners were warmly received as the only Chinese group in the St Patrick's Day Parade held on Sunday, March 5, 2006 on Staten Island.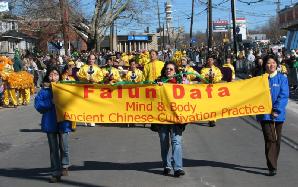 Falun Gong practitioners' contingent
Falun Gong practitioners brought to residents of Staten Island the lion dance, waist drum performance, celestial maiden dance and exercise demonstration. Wherever the contingent went, there would be rounds of warm applause. No matter if they were Westerners or Asians, everybody enthusiastically welcomed the arrival of Falun Gong. Some spectators had heard about or been in touch with Falun Gong before, and they were very happy to greet the practitioners, who handed out truth clarification materials about Falun Gong to spectators.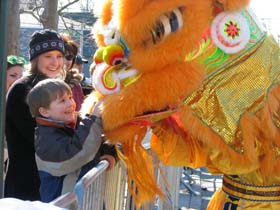 A western boy shows great interest in the lion dance
The parade lasted for about one and a half hours, attracting tens of thousands of people to watch. The main part of the parade this year consisted of marching bands from local high schools and other performing troupes. Many spectators expressed that Falun Gong practitioners' contingent added more festive joy to St. Patrick's Day.
St. Patrick Day was originally established to commemorate St. Patrick, who introduced Christianity to Ireland. In the 5th century, St. Patrick spent nearly 30 years traveling throughout Ireland to spread Jesus' gospel. During that time, he established most of the Catholic churches and monasteries across the country. It is said that St Patrick once displayed divine power to drive all the snakes out of Ireland. Today, it's rare to find snakes in all of Ireland. As time passed by, St. Patrick Day became a traditional holiday for Irish immigrants in North America to display their nation's culture.
In the past years, Staten Island has always held its celebration several weeks in advance, so that participating groups and individuals would be able to take part in the grand St. Patrick's Day parade to be held on March 17 in Manhattan. For local people, the St. Patrick's Day parade and the July 4 parade are the two largest activities on Staten Island each year. Falun Gong was the only Chinese group invited to take part in the parade yesterday.
During the parade, Falun Gong practitioners' lion dance performance drew the interest of local Western spectators. Many young western spectators excitedly touched the performers' lion head masks, out of curiosity. Some high school students were attracted by the Falun Gong practitioners' drumbeats, joining in with the practitioners to beat drums and gongs. A St. Peters Catholic High School student and his friend showed great interest in eastern drumming, and they earnestly asked for advice from practitioners on how to handle the cymbal, which they had never seen before.