Charles Li and his Family Continue Being Harassed by the CCP (Photos)
March 21, 2006 | By a Minghui/Clearwisdom reporter from San Francisco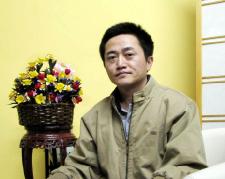 After having suffered three years of illegal detention and persecution, Charles Li returns to San Francisco
(Clearwisdom.net) After having gone through three years of the persecution inflicted upon him by the Chinese Communist regime, Falun Gong practitioner and American citizen Charles Li finally obtained freedom and returned to America over two months ago. Recently, he said in an interview that he and his family have continued being subjected to the Chinese Communist Party's (CCP's) gangster-like harassment.
Charles Li's car windows smashed
Charles Li said that on March 4, 2006, his cell phone was stolen at his workplace. The same night, his car, parked at the roadside near his workplace had its windows smashed. At the same time, National Security Agents have recently harassed his family in China and warned Charles Li "not to go against the CCP."
Charles Li returned to China in January 2003 to spread the truth about Falun Gong, but was immediately arrested by CCP agents at the airport as soon as he got off the plane in Guangzhou. He was then illegally sentenced and imprisoned in Nanjing Prison for three years. He suffered all kinds of physical and mental torture. These experiences helped him see through the CCP's evil nature, and strengthen his confidence in practicing cultivation.
Charles Li said that during his illegal detention in Nanjing Prison, the CCP brutally persecuted him in order to force him to give up his belief in Truthfulness-Compassion-Forbearance. His parents also were subjected to tremendous pressure. His mother could not bear the pressure and worry and eventually fell ill and became bedridden.
Charles Li said that the CCP acted the most disgracefully when his mother was critically ill. They took advance of the situation to threaten him and try to force him to give up practicing Falun Gong. He did not comply, so the CCP refused to let him see his mother. After this matter was exposed to the outside world, with help from the international community, the CCP had to allow him to see his mother for the last time. But when he hurried home, his mother had passed away without being able to see her son for the last time.
Charles Li condemned the CCP as a thoroughly scoundrel organization. He said he had learned recently that the CCP employed deceptive propaganda to defame him and his family by saying that his lack of filial piety had resulted in his mother's death. His family considered having the CCP redress the damage to their reputation through legal means. Under these circumstances, the CCP threatened his family and used gangster-like tactics against Charles Li in America.
Charles Li emphasized the fact that the CCP's evilness is known to everyone, but their wicked actions could have no effect on him. He said that the CCP has once again exposed its persistent evil nature. He believes that with more and more people learning about the CCP's wickedness, its disintegration is imminent. He hopes that day will come as soon as possible.