Practitioner Cheng Peiming Escapes Midway through Eight-Year Prison Sentence (Photos)
March 16, 2006 | By a Dafa practitioners in Daqing
(Clearwisdom.net) In the early morning hours of March 3, 2006, Falun Gong practitioner Cheng Peiming (illegally sentenced to 8 years in prison) escaped from the Longnan Hospital in Daqing after 17 days of a hunger strike, ending his unlawful detention of over four years. His escape caused an extreme panic in the Daqing Prison, which immediately reported the incident to its superiors and the 610 Office in Daqing City. Daqing Prison, Daqing City Police Department, the National Security Bureau and Armed Police then mobilized their forces, desperately trying to arrest Cheng Peiming, who had been on a hunger strike for 17 days.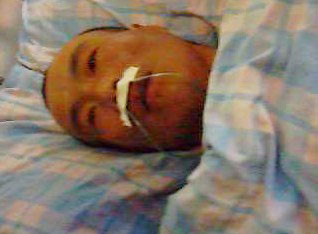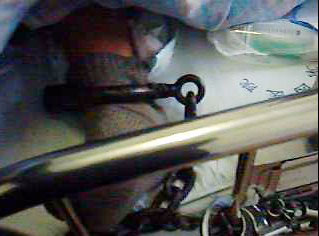 In November 2004, Cheng Peiming was on the brink of death as a result of abuse and mistreatment from persecution, yet his feet were still shackled to the sickbed
Daqing Prison Deputy Director Wang Yingjie urged the prison's deputy administration section head Tian Xifeng to try to find any information about the escape through the underworld gangs, but was told coldly, "We've never had anything to do with Falun Gong. We cannot help you."
Many policemen, prison guards and armed police officers who still have a conscience carried out their tasks in a perfunctory manner.
On March 4, Daqing Police Department agents sent more than 20 policemen to Falun Gong practitioner Guan Zhaoqi's home. Mr. Guan is locked up in the Daqing Prison. His residence is at No. 1, Building 16, the Jingyuan Residential Area in the Ranghulu District. The police smashed the lock with a hammer and broke into his home. They beat Mr. Guan's son with electric batons and confiscated personal belongings, such as a computer and other items. At the same time, the police also broke down the doors and broke into other practitioners' homes in the Fangxiaolou Residential Area in Ranghulu, confiscating their computers. Guan Zhaoqi's wife Yu Guixiang decided to leave home to avoid further persecution.
In order to arrest Cheng Peiming, the lawless police set up checkpoints and searched for him everywhere, including all the hospitals, big or small, in the Daqing region. There are police at checkpoints on every outbound road from Daqing. All vehicles are stopped and checked 24 hours a day. The police also went to Cheng Peiming's hometown of Jixi City to search for him, and sent many police officers to Beijing to prevent him from entering the city.
The police also used underworld tactics to monitor and harass Mr. Cheng and Mr. Guan's family members, as well as other practitioners. For example, Daqing Prison officials sent a number of prison guards to lurk in the Fangxiaolou residential area and forced Cheng Peiming's younger sister to report to the prison every day. Guan Zhaoqi's son is tailed at all times. Daqing Prison officials tried to coerce Guan Zhaoqi to provide information on his wife Yu Guixiang's whereabouts, but were sternly refused. The police used secret agent tactics to monitor the telephone and cell phone calls made by Cheng and Guan's family members. Some citizens who had made work-related phone calls were unlawfully interrogated. The illegal home searches mentioned earlier were conducted following monitored phone calls.
Wanting desperately to arrest Cheng Peiming and to cover up their crimes, Daqing Police Department officials offered rewards of 30,000 yuan and 50,000 yuan for information leading to the practitioner's arrest. The "reward" notice did not dare to mention that Cheng Peiming is a Falun Gong practitioner who has been unlawfully persecuted. Instead, they slandered him by lying, saying that he was a "criminal" who had been sentenced to eight years in prison for obstructing the implementation of the law.
Daqing Prison's reporting hotline: 86-13936816666 (Cell), 86-13766776699 (Cell), 86-13039804444 (Cell), 86-13329470855 (Cell), 86-13936991999 (Cell), 86-459-5059911