San Francisco: Practitioners Protest Violent Attack by CCP Agents (Photos)
February 16, 2006 | By Kerry Huang, Minghui reporter from San Francisco
(Clearwisdom.net) The attack on practitioner Dr. Peter Yuan Li, beaten at gunpoint in his Atlanta home by Chinese Communist Party (CCP) secret agents, has drawn attention from mainstream media and people from all walks of life. On February 13, 2006, practitioners protested the attack in front of the Chinese Consulate General in San Francisco.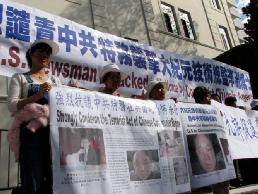 Exposing and condemning CCP crimes in front of the Chinese Consulate in San Francisco
Dr. Peter Yuan Li has Benefited Both Physically and Mentally by Practicing Falun Gong
Dr. Yuan Li started practicing Falun Gong in the USA in 1997, and has benefited both physically and mentally. Shortly after he began his cultivation practice, he wrote, "I have found the wisdom and truth that truly [compelled] me to pursue for my whole life." "I was a stubborn atheist. Falun Dafa unlocked my wisdom to enable my mind to become broader, more peaceful and more rational. I feel from the bottom of my heart that Falun Dafa is a true science, and a higher science."
In 2000, Yuan Li started participating in the Epoch Times media, and later became chief technical officer. The Epoch Times newspaper published a series of commentaries called the Nine Commentaries on the Communist Party in late 2004. As a result, many Chinese people have opened their eyes to the true nature of the CCP: falsehood, wickedness and violence. Since the publication of the Nine Commentaries, eight million people have publicly renounced the CCP and its various branches on the Epoch Times website.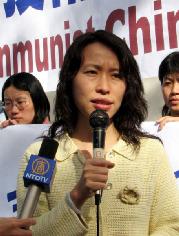 Bay Area Falun Gong spokesperson Sherry Zhang expresses that each time the CCP suppresses Falun Gong, it actually helps spread Falun Gong


Falun Gong practitioner and Epoch Times staff member in the Bay Area, Ma Zhiyou, exposes the persecution by the CCP that he experienced
Each Time the CCP Suppresses Falun Gong, it Helps to Disseminate Falun Gong
The CCP has employed the most evil and disgraceful tactics to persecute Falun Gong. But the Atlanta attack actually helps the world's people to see that the tactics used to persecute Falun Gong are the most wicked and shameful.
Falun Gong spokesperson Sherry Zhang expressed that the CCP extends its dark hands outside of China. The assault of Dr. Peter Yuan Li is not at all the only case. Falun Gong practitioners around the world have received repeated telephone threats and been assaulted for years. In the USA, these incidents have been reported to the FBI, and have led to increased attention and concern about Falun Gong in the mainstream media.
Ms. Zhang said that Forbes magazine reported the Atlanta attack in an article titled "When All Else Fails - Threats." AP, VOA, RFA, Fox 5, and media in Atlanta extensively reported the incident. Reporters have remarked to Ms. Zhang that they felt that every time the CCP suppresses Falun Gong, it helps popularize Falun Gong.
San Francisco Practitioners Expose CCP Persecution
Epoch Times staff member Ma Zhiyou talked about his persecution for practicing Falun Gong. Last year, his home was broken into twice, and his personal computer was stolen. The CCP National Security Bureau harassed and intimidated his family members in mainland China. They sent someone to run down his father while riding a bicycle in the street. His father's arms were broken. They later demanded that his sister tell him about it on the phone.
Ma Zhiyou said, "I'm very clear that the CCP attempted to use these hoodlum tactics to intimidate me, so as to stop me from exposing their evil deeds. But these evil acts of the CCP are unable to frighten people. As of today, eight million people have announced their renunciations from the CCP. The CCP is extremely afraid that more people can see clearly its evil nature. It has lost rationality."
San Francisco Resident Condemns CCP Acts
San Francisco Sunset District resident Mr. Yu expressed that many people in the Chinese community understand the evil nature of the CCP. If the CCP attempts to do as it wants on American soil, it is wrong, because America is a country ruled by law. He strongly condemned the CCP's hoodlum and gangster acts and called upon the American government to thoroughly investigate the Atlanta incident, and bring those responsible to justice.
Background of the Assault on Dr. Peter Yuan Li
At around noon on February 8, 2006, an Asian man, feigning a water delivery, appeared on Li's doorstep. Before Li knew it, two men had forced their way in, pulled out a gun and knife, and wrapped him up in a blanket, attempting to suffocate him. They then used duct tape to cover his mouth, eyes and ears, and an extension cord to tie up his arms and legs. The men beat him severely about the head and face, probably with the butt of a gun. He bled profusely.
Half an hour later they left. They had overturned his filing cabinets and stolen two laptop computers and other documents, but no valuables. The wounds on Li's face required fifteen stitches. The residential area where he lives is a very safe area. According to the police, they had never before seen such an incident happen there.