Toronto: Practitioners Protest CCP Attack in Atlanta (Photos)
February 14, 2006 | By Ye Linghui, Minghui reporter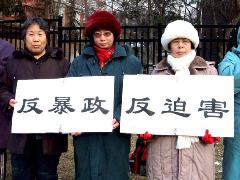 Falun Gong practitioners show their determination of "Anti-Tyranny, Anti-Persecution" in front of the Chinese Consulate in Toronto
(Clearwisdom.net) Nearly 200 practitioners, Epoch Times staff, and supporters from all walks of society gathered for a press conference in front of the Chinese Consulate in Toronto at 3:00 p.m. on February 11, 2006. The conference brought to light details of the CCP attack of a practitioner in Atlanta. They protested the CCP's terrorist and violent acts and demanded that those responsible be brought to justice.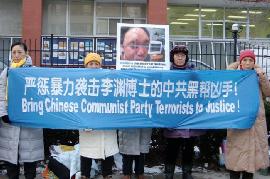 Falun Gong practitioners protest CCP's terrorist act
Dr. Peter Yuan Li was assaulted and robbed by CCP secret agents at his home in Atlanta, Georgia at noon February 8. The thugs overturned his file cabinets and stole two laptop computers and important documents, but no valuables. They left half an hour later. The thugs beat Li severely about the head and face. The wounds on his face required 15 stitches.
Spokesperson Joel Chipkar said that the assault of Yuan Li is an example of CCP secret agents' barbaric acts encroaching on the rights and privacy of Falun Gong practitioners in North America.
Chipkar pointed out that on January 18, Canada's Ontario Human Rights Tribunal ruled that the Senior Chinese Cultural Association of Ottawa was guilty of discrimination for terminating the membership of 70-year-old Huang Daiming because she practices Falun Gong. The membership cancellation was a direct result of interference by a Chinese Embassy official.
Falun Dafa Association of Canada representative John Zhang expressed that the Atlanta assault was premeditated. The CCP was trying to intimidate Falun Gong practitioners and undermine their work. Such crazy retaliation will not frighten Falun Gong practitioners.
"This ugly act of absolute loss of rationality reveals the CCP's shamelessness, resorting to anything it can before its imminent collapse." John Zhang called on those who are still working for the CCP to immediately wake up. Practitioners call for the staff of Chinese embassies and consulates in different countries to break away from the evil party, to save themselves from the same fate that awaits the party.
Epoch Times Editor Fang Han called upon the Canadian government to take the attack of Yuan Li as a warning, and to pay close attention to CCP secret agent activities in Canada. He reminded CCP officials to abide by Canadian laws and not to interfere with media in Canada.