Taoyuan, Taiwan: Practitioners Wish Compassionate Great Master a Happy Chinese New Year (Photos)
February 01, 2006 | By Liang Huijuan, a practitioner in Taiwan
(Clearwisdom.net) On January 22, 2006, despite the arrival of a cold front and the ensuing heavy rain, practitioners from the Taoyuan area held a half-day group study and experience sharing as well as a Minghui School session for young practitioners at Qingxi National High School. Everyone cherished the opportunity for sharing to all improve together. Since it was only one week before the Lunar New Year, practitioners took a group picture to wish Master a Happy New Year and to extend their appreciation to Master for His compassionate salvation.
| | |
| --- | --- |
| All practitioners respectfully wish Master a Happy New Year | The waist drum troupe wishes Master a Happy New Year |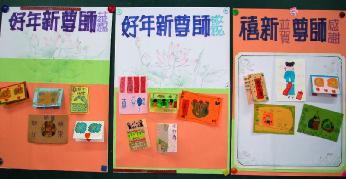 Young practitioners in the Minghui School expressed their greetings to Master by drawing New Year Greeting Cards
Practitioners read Master's "Teaching the Fa in San Francisco, 2005" and other new articles. They shared experiences and exchanged understandings on various issues, including how to better coordinate with each other, how to deal with the situation when noticing other's shortcomings, how to look inward when having conflicts, how to harmonize and balance the relationships between family and society, how to widely spread the Nine Commentaries on the Communist Party, and so on. They found many areas to be improved. In addition, they realized that cultivation is very serious and they should pay close attention to every single thought in order to make firm progress in cultivation and Fa-rectification.
At the same time, the young practitioners in Minghui School did the Falun Gong exercises and read Zhuan Falun in another classroom. In the art class, their teacher asked the children to draw greeting cards to wish Master a Happy Chinese New Year. On the cards, some young practitioners wrote that they would read more of Zhuan Falun, some wrote, "Master, you have worked so hard," or "Respectfully wishing Master Happy Chinese New Year." Every word reflected their pure hearts and deep respect for Master.
Today's modern education mainly focuses on knowledge and professional skills, and rarely pays special attention to the importance of morality. The Minghui School, however, provides children an environment for nurturing morality. Teaching children to be good people by following the standard of "Truthfulness-Compassion-Forbearance," the Minghui School surely will have a far-reaching positive impact on the students' personality as well as their physical and mental health.
All participants stated that they would treasure the cultivation paths that they had gone through so far, and would be more diligent in doing the three things. They also took the opportunity to send their New Year's Greetings to Master Li:
"Master, you have worked so hard! We wish Master a very Happy Chinese New Year!".