NTDTV "Holiday Wonders" Show Conveys the Wonders of "Truthfulness-Compassion-Forbearance" (Photos)
December 29, 2006 | By Kerry Huang, Minghui reporter from New York
(Clearwisdom.net) New Tang Dynasty Television (NTDTV) presented nine performances of its "Holiday Wonders" show at the Beacon Theatre on Broadway in New York. The last performance completed the afternoon of December 24, 2006. Artists expressed that they hoped to use their songs, dances and music to convey to the audience the wonders of "Truthfulness-Compassion-Forbearance" and the real meaning of life they have come to understand in their cultivation of Falun Dafa. The performances left countless pleasant surprises, inspirations and memories to the more than 20,000 attendees from all walks of life.
"Celestial Maidens Dance" demonstrates their purity, peacefulness and noble demeanor. They dance gracefully in a heavenly paradise.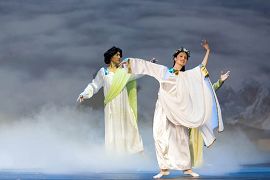 Dance: "The Vow of Old"
| | |
| --- | --- |
| The audience at the theatre | The audience at the theatre |
Attendees take photos with Chinese Lion at the entrance to the theatre, reluctant to leave
Life is originally deities in heaven, don't be deluded in the human world and miss the opportunity of being saved
"We have fallen to this maze
Helpless, lost, can't find the way
Searching thousands of years
One day Master reappears
Be saved, be saved
Please don't miss this chance again"
This is the song titled "Be Saved" sung by the famous soprano Jiang Min at the NTDTV "Holiday Wonders" show.
Jiang Min said that deities truly exist. One's life actually is originated from the heavens. But just like what the lyrics say, when people fell to the maze, they lost their way. During the transmigration and reincarnation over thousands of years, people suffered a lot. When benevolent Master wide spreads Dafa to save sentient beings, everybody should not miss this precious opportunity.
Jiang Min further explained that people in ancient times all believed in gods, and believed that gods watch their every action, they could not do bad deeds, otherwise, they would meet with retributions, so ancient people generally had a lofty moral character. In modern society, public morals are degenerated daily, many people do not believe in gods, and the morality slides down sharply. People would do anything, and even kill people for money or personal interests.
Jiang Min said that she hoped her song could inspire people's belief in gods, and also could awaken people's reverence for gods. Her second song was entitled "Spring Comes." "Spring" symbolizes hope and brightness. When the Fa rectifies the human world, everything on earth will be renewed, and the new cosmos will be very beautiful.
Seize the opportunity to quickly find what is true
Famous soprano Bai Xue sang in the song,
"So vast are heaven and earth,
Whither do people go?
Lost, the way is obscured.
Let truth be the compass.
When disaster descends,
it favors neither rich nor poor,
but there is a way out,
quickly find what is true."
Bai Xue said that the lyrics have a deep meaning, inspiring people to think over: Where do we come from? Why do we exist? And where shall we go.
Convey meaning with singing: Searching for Dafa, strive forward diligently on the path to godhood
Guan Guimin sang in the song titled, "Who Am I?" Who am I in the vast heaven and earth, fail to remember how many times I have reincarnated, amidst trials and tribulations, I have been helplessly lost, my heart of yearning was so tired, in the darkness, my tears ran down with bitterness. Until the moment I saw the truth, until I searched and found Dafa. Resounding in my ears like thunders, I know who I am. I know that I should strive forward diligently on the path to godhood. He said this depicts what is in his mind.
Guan Guimin sang in the song titled "Ode to Returning," An agelong vow, do you know why you come to the human world, waiting for hundreds of thousands of years, is just
for boarding the boat of life. Compassionate Master wakes us up, the truth of universe shines upon the human world. We are Dafa disciples, returning to our original, true self. With righteous thoughts and actions, we follow Master to return home.
Bring out the spirit of "Truthfulness-Compassion-Forbearance", rectify human civilization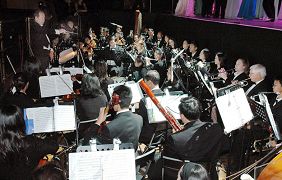 Tian Yin Orchestra
The conductor of the Tian Yin Orchestra is Mr. Chen Rutang, former director of Symphony Troupe of the China Central Orchestra, principal cellist and first-class national performer in China. He said that the Tian Yin Orchestra is composed of about 50 players, including competition winners, first and second class performers in China, and junior and university students. The orchestra was set up less than one year ago, and the whole group can act in harmony and perform outstandingly, attributing to the fact that they all cultivate "Truthfulness-Compassion-Forbearance," and the principle they share is of inheriting ancient styles, and returning to traditional arts.
Chen Rutang pointed out that many performers of modern music perform with an abnormal and extreme state of mind, their works show impetuous and wild shouting, irritating to listen to. Those people actually indulge themselves, and vent grievances, but not true art.
Chen Rutang expressed that art can inspire people. A true artist, it is very necessary for him to have a lofty moral character. There is a saying in China, "Style is the man." If a good performer of high moral training performs, the composition he performs will emit peacefulness and kindness. Listeners will feel the purity of his heart, and will nurture listeners' temperament.
Chen Rutang said that singers and performers are both bring out or express their minds through art. The NTDTV show expresses the legendary stories and traditional culture. The performers cultivate "Truthfulness-Compassion-Forbearance," they will display their compassion, peacefulness and realm of minds during performance.
Holiday Wonders show displays traditional culture, touches the hearts of more than 20,000 guests
The nine performances of the NTDTV Holiday Wonders show left endless pleasant surprises and inspiration to more than 20,000 Western and Chinese audience members from all walks of life. Many gave high praise: "This is the best performance I've ever watched in my life."
Mechanical engineer Cao Mingli from a neighboring city who came to watch the performance said that the performance was wonderful. She watched it twice. It is very traditional Chinese culture, leaving a memory in one's mind. She felt very relaxed, complaining that she always gets a headache when she watches other performance from China, feeling their content is far-fetched.
Ms. Jin from Queens said that she came to the United States three years ago from Shanghai. She often went to watch performances, but she had never watched performances that are so pure and righteous, in particular, many performances now are very commercial, and many unhealthy elements are put on stage. But the NTDTV show is so beautiful, from the costumes to the contents of every performance.
Dean of Puerto Rico and Latin America Research Department of John Jay Criminal Law School at the City University of New York, Professor Luis Barrios showed great interest in Chinese culture. Mr. Barrios said that the performance is "excellent".
Speaking of the Chinese people's traditional values, views of the universe and the "unification of heaven and man," Professor Barrios said that every one came to this world with a mission. He said that he fully understood what the first performance "The Vow of Old" tries to express. "The Vow of Old" is a very good program. He knew that many people spend their life like a guest in a hurry, but never understand "Why did I come here?"
"Seeing people live, eat, sleep and finally leave the world, but never understanding the purpose of coming to this world, it is indeed a painful thing. When I saw lives from heaven sign vows to come down to the human world, I could not help imagining, "What is it like in heaven? What is the connection between us and the other side? How to harmoniously pass the ancient message to the earth?"
A seventeen year-old student who came together with professor Barrios said he loved all performances, particularly favoring the two songs sung by Jiang Min. "I'm deeply touched by the songs' melody, and the message they conveyed is hard to describe in language."