CIPFG ASIA Calls For Thorough Investigation of Live Organ Harvesting by Chinese Communist Regime (Photos)
(Clearwisdom.net) [Editor's note: The Chinese Communist Party (CCP) engages in organ transplants not to save lives but solely for profit. It is evil, both in terms of "means and ends." The CCP makes outrageous profit by harvesting organs from living Falun Gong practitioners while physically annihilating these kind and innocent people who persist in their belief. This is a form of evil never before seen on this planet.]
Correspondent Fang Hui reports from Taiwan: the Coalition to Investigate the Persecution of Falun Gong, Asia Branch (CIPFG ASIA) established on December 10, 2006, Human Rights Day, held a press conference at the Taiwanese Legislative Yuan the morning of December 19. At the same time, other press conferences were held in Korea, Japan, Hong Kong, Malaysia and Macao. Members of CIPFG ASIA vowed to thoroughly investigate and end the CCP's crime against humanity of harvesting organs from living Falun Gong practitioners. They wrote letters to Chinese premier Wen Jiabao and head of the Central Politics and Law Committee Luo Gan, demanding the Chinese Communist regime to open all facilities where Falun Gong practitioners are illegally held, and accept thorough, fair and unlimited investigations to end this seven-year persecution.
Lai Ching-te, president of CIPFG ASIA and Chiu Huang-chuan, vice president, both signed an open letter to Communist Party officials. They mailed the letters that same day via certified mail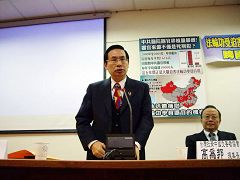 Tu Hsing-che, former head of the Taiwan Department of Health said it's unimaginable for someone in the medical field to sacrifice one person's life to save another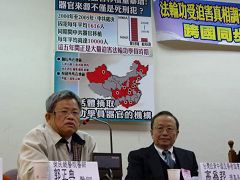 Kuo Cheng-Deng, a doctor at Taipei Veterans General Hospital said organ transplants are used to save the lives of patients who are in critical condition; however, the lives of healthy people should never be sacrificed for the sake of saving sick people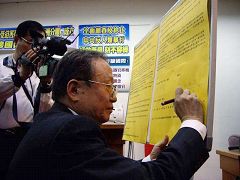 Gao Weibang, director of the Association of Victimized Taiwanese Investors in China, signed the open letters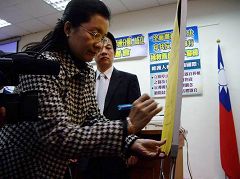 Tien Chiu-chin, member of the Legislative Yuan, signed letters to Wen Jiabao and Luo Gan
CIPFG ASIA consists of more than 100 elite individuals in the political, legal, medical and media fields as well as NGO workers in Taiwan, Hong Kong, Japan, Korea, Malaysia and Macao. This organization crosses state and party borders. The members, fearless of a dictatorial regime, assist Falun Gong practitioners in ending the persecution out of conscience, moral obligation and a sense of justice. It is a magnificent feat of human rights in Asia.
Zhang Xuerong, spokeswoman for CIPFG (please INSERT AUDIO AND VIDEO), two independent Canadian investigators and president of CIPFG Australia wrote letters to congratulate the founding of the CIPFG ASIA.
Representatives from CIPFG ASIA Taiwan Group who attended the press conference included the following: Lai Ching-te, president of CIPFG ASIA and a current member of the Legislative Yuan; lawyer Chiu Huang-chuan, vice president of CIPFG ASIA; Tien Chiu-chin, member of the Legislative Yuan representing the political arena; Gao Weibang, director of the Association of Victimized Taiwanese Investors in China representing the human rights arena; Tu Hsing-che, Director-General of the Taiwan AIDS Foundation representing the medical arena and Kuo Cheng-Deng, medical director of the Research Department at Taipei Veterans General Hospital, who also represented the medical community in Taiwan.
Rescuing the innocent is an urgent matter; supporting the right cause, regardless of nationality
Lai Ching-te, president of CIPFG ASIA said the organization chose Human Rights Day as its founding day to highlight its mission, which is to safeguard basic human rights and rescue kind and innocent people currently persecuted in China. The rescue task is quite urgent because the persecution is happening in China on a daily basis. The organization hopes justice-loving people throughout Asia and in the rest of the world would lend support so all people in the world might receive well-deserved human rights and justice. Lai Ching-te also said he is very pleased to have Macao as a member, to work hard on the investigation along with Asia's Four Little Dragons and Malaysia. (Please INSERT VIDEO)
The membership of CIPFG ASIA increased from 91 on its founding day to the current 117 and it is still growing. Many members are legislators, prominent political figures and lawyers. People who wield significant influence in Asia courageously joined the CIPFG despite Communist Party's threats and financial enticements, which demonstrates they are well aware of the atrocity of organ harvesting from living people and are willing to help Falun Gong practitioners end the persecution by carrying out investigations in Mainland China. Three former presidents of the Taiwan Association for Human Rights, established on Human Rights Day 22 years ago, also joined CIPFG ASIA. The table below lists CIPFG members by geographic region and area of expertise.
Summary List of the Coalition to Investigate the Persecution of Falun Gong (CIPFG) ASIA
Total number of members: 117

Field of Life

Number of Members

Country/Region

Number of Members

Congressmen/women

20

Taiwan

48

State senators

16

Japan

16

Legal experts

33

Hong Kong

6

Medical experts

22

Korea

42

NGO members

13

Malaysia

4

Administrative chiefs

1

Macao

1

Others

12
Lai Ching-te calls for the Taiwanese public to courageously join in this meaningful act to bring to an end the CCP's human rights violations.
Tu Hsing-che, former head of the Department of Health and the current Director-General of the Taiwan AIDS Foundation said organ transplant is a good act of love that the donors leave behind for the mankind, and yet the CCP commits a shameful act through organ transplants. It is unimaginable in the medical field to end one life in order to save another. He thinks the investigation will not only save Falun Gong practitioners' lives but also better protect other Chinese citizens' human rights.
People who were engaged in transplants with the organs from unknown sources are facing the issue of "accomplice to murder"
Kuo Cheng-Deng, a physician at Taipei Veterans General Hospital said although he could not believe such vicious crimes exists, he said in a pained voice that the Chinese Communist Party is even more frightening than the Nazis. He thinks organ transplants are a very important development in medical history and reflect the best of human nature, yet the CCP has grossly abused this medical technology to such an extent. He suggests taking powerful actions against China, including economic sanctions, and he doesn't think much of the current policy of unlimited Taiwanese investment in China.
Kuo Cheng-Deng also emphasized that the Taiwanese government is, in disguised form, encouraging its citizens to get organ transplants in China by granting medical resources for medical aftercare such as post-operative care, immuno-suppressant drugs for those who had undergone transplant surgeries in China. Taiwan should not allocate health care resources for these patients; the government should investigate this matter by doing more than simply advising against organ transplant surgeries in China, as it not only involves medical ethics but also the legal issue of being "accomplices to murder," the same as committing murder.
Chiu Huang-chuan, vice president of CIPFG ASIA said it is heartwarming to see people with opposing political beliefs join the organization, and he thinks it is also the right direction for Taiwan. Taiwan received tremendous help from the international community during its struggle for democracy. The Taiwanese government might be slow [in responding to live organ harvesting], but civil organizations should all take quick action to move forward.
Plan to make a law for "unknown organ source" as a crime
Lai Ching-te said the CCP's persecution of Falun Gong is public knowledge, and yet some Taiwanese became indirect murderers by going to China for organ transplants. He is currently working with the Department of Health to make it a crime to receive an "unknown organ source," so that Taiwanese citizens must clearly explain to the government the source of their received organs, and provide a donor's consent form when they undergo organ transplants anywhere in the world, including China. If relevant documents are missing, the organ recipient would be prosecuted or be refused health care.
He also said 16 of the 23 counties and cities in Taiwan have passed resolutions to condemn the Chinese Communist regime's atrocious practice, and many members of congress have joined CIPFG ASIA, all of which are positive actions but are not enough. He said, "In the future, we hope all representatives of the people of Taiwan and members of the social elite will regard ending this horrific tragedy as the most important task in their life and help end it." (please INSERT AUDIO)
Indifference is another form of persecution
Tien Chiu-chin, member of the Legislative Yuan, cited stories of some German and Japanese scholars who refused to cooperate with their government's persecution during World War II. After the war, the upcoming generations in these two countries were able to maintain their confidence of goodness and justice towards their countries because of these scholars' exemplary words and actions.
Human rights representative Gao Weibang pointed out that the Communist Party has committed its worst human rights violation by taking organs from living people. This is happening while the CCP is pursuing a so-called "harmonious society." The indifference and lack of reporting among Taiwanese media has resulted in the Taiwanese public not understanding the serious nature of the matter. He calls for more attention from the Taiwanese media, because the CCP is not to be feared, but indifference is!
Alliance Across Six Asian Regions
A press conference was held at 11 a.m. on the same day in Korea. Kim Huw-yee, a former Parliament member and vice president of CIPFG ASIA hosted the conference. CIPFG ASIA has more than 40 Korean members, most of whom are doctors and lawyers. Two Korean Falun Gong practitioners and their families who were persecuted under the Chinese Communist regime recounted their experience inside Chinese prisons and labor camps. They said all Falun Gong practitioners in China constantly face the possibility of having their organs removed when alive.
Japanese members of CIPFG include city council members, doctors, members of the media and human rights experts, showing an obvious force resisting the Communist Party's crimes taking shape in Japan, a nation that has always paid close attention to diplomatic and political trends in China. Quite a few media, both government and private, have reported the persecution of Falun Gong and harvesting of organs from living Falun Gong practitioners in the past two months. These media will continue to focus on humanitarian support and human rights topics.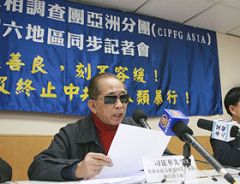 A press conference hosted by Szeto Wah, vice president of CIPFG ASIA, was held at the same time inside the Kowloon office of the Hong Kong Professional Teachers' Union.
It was a historical act when a CIPFG press conference was held in Hong Kong and Macao on Chinese soil under the "one country, two systems" policy. These two regions are closest to Mainland China; Some people there stepped forward to help end the persecution of Falun Gong, without fear of the totalitarian regime and violence.
CIPFG ASIA has six members in Hong Kong. They are vice president Szeto Wah; Lam Tsz-kin, vice spokesman on Constitutional Affairs of the Democratic Party; Lam Wing-yin, member of the Saikung District Council, Ho Chun-yan and Leung Kwok Hung, members of the Legislative Council, Cheng Yu-shek, a professor at City University of Hong Kong. Szeto Wah, Lam Wing-yin and Lam Tsz-kin signed an open letter to China's Liaison Office in Hong Kong during the press conference and delivered the letter in the afternoon.
Szeto Wah said that CIPFG ASIA is an international volunteer organization that crosses national and party borders. It is established for safeguarding basic human rights and for concern for Falun Gong, a group the Communist regime has persecuted for the past seven years. All branches of CIPFG will continue to work as long as the Communist Party's human rights violations are still ongoing. We will persistently resort to all peaceful means to uphold basic human rights in China and abroad.
Vice president Edmund Bon is a human rights lawyer in Malaysia. He is also a defense lawyer for the UN Refugee Agency and the National Human Rights Association. CIPFG ASIA members in Malaysia include three lawyers and one NGO.
Edmund Bon said, "We have yet to see the Chinese Communist regime respond to or show any respect toward the charges raised in the report [written by two Canadian investigators]. I think the charges are quite serious; therefore we demand further investigation." He led CIPFG members to deliver open letters to the Chinese consulate following the press conference.
All representatives from CIPFG ASIA who attended the synchronized, multi-country press conferences signed public letters to Chinese premier Wen Jiabao and to Luo Gan, secretary of the Central Politics and Law Committee, in which they demanded the Communist Party to follow international human rights agreements and immediately end its restrictions, incarcerations and severe persecution of Falun Gong practitioners. They also expressed support for Chinese human rights lawyer Gao Zhisheng and his family. In Taiwan, the letter was sent to the State Council and to the Central Politics and Law Committee and in other regions. The letter was also delivered to local Chinese consulate(s) or liaison offices.
Lai Ching-te, president of CIPFG ASIA, emphasized the organization will give the Communist regime one month and hopes the regime from a standpoint of conscience would respond positively. He did not exclude the possibility of seeking international support, to impose specific sanctions on China.