Taiwan: Chiayi City Councilor Joins CIPFG to Investigate Organ Harvesting (Photo)
(Clearwisdom.net) On December 3, 2006, Chiayi City Councilor Tsai Wensyu expressed his willingness to join the Coalition to Investigate the Persecution of Falun Gong (CIPFG). He said: "Harvesting organs from living people is a crude and inhumane crime." To safeguard human rights, he said that he had no choice but to join the investigation.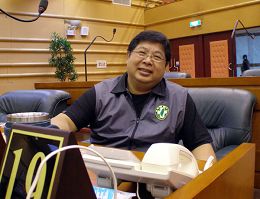 Chiayi City Councilor Tsai Wensyu
On December 4, the Taiwan Epoch Times reported: Since the Chinese Communist Party' s atrocities of harvesting organs from living Falun Gong practitioners was exposed last March, Chiayi Falun Gong practitioners have been working very hard to let local residents know about the atrocities. Councilor Tsai signed up to join the CIPFG at a meeting when he heard about this issue recently. Tsai also appealed to the public: "Such atrocities cannot be tolerated by Heaven and Earth. Everyone should condemn such an inhumane crime."
On April 18, legislator Lai Qingde raised a motion urging the Legislative Yuan (Parliament) to pass a resolution to urge international human rights organizations and the World Health Organization to investigate Chinese labor camps, prisons and medical facilities and to urge the Chinese Communist Party to stop crimes of organ harvesting from living Falun Gong practitioners. The resolution received bipartisan support.
In addition, many county and city councilors across Taiwan have condemned the atrocities of organ harvesting. To date, among the 23 counties and cities in Taiwan, 16 counties and city councils have passed resolutions to condemn the organ harvesting atrocities.