Japan: Falun Gong Practitioners Attend the 23rd Peaserobe in Hiroshima (Photos)
November 04, 2006 | By a practitioner from Hiroshima
(Clearwisdom.net) On October 15, 2006, Falun Gong practitioners from Hiroshima attended the 23rd "Peaserobe" festival, which was organized by the Peaceful Culture Center and International Culture Company in Hiroshima. Peaserobe means in "Peace and Love." The pronunciation of it is from Spanish. The purpose of the festival is to offer an opportunity to people from different countries to share their cultures. Currently, there are more than 15,000 foreigners from 80 countries living in Hiroshima. Groups from China, Thailand, Sri Lanka, Nipal, Korea and India attended the festival.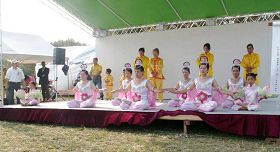 Demonstrating the exercises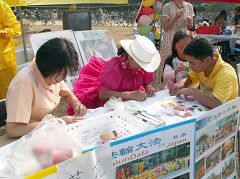 Practitioners teach people how to fold the paper lotus flowers
At the booth, practitioners provide many truth-clarifying materials and photos to introduce Falun Gong, and its spreading in Hiroshima, Japan and the world.
Practitioners demonstrated the exercises, and performed traditional Chinese dance and waist drum. Practitioners also taught people how to fold the paper lotus flowers.
Many citizens were attracted to the practitioners' performance. Some of them wanted to learn the exercises. Many Chinese people asked for the lotus flowers and talked to practitioners. They were very happy that practitioners brought traditional Chinese culture to Hiroshima and were proud of the practitioners' performance.
The paper lotus flowers also attracted many people. They learned how to fold them and also learned the facts about Falun Gong.
After the activity, many people learned about the beauty of Falun Dafa.