Belgium: The Beauty of Falun Dafa Becomes Well Known (Photos)
(Clearwisdom.net) The annual fair of small products created and produced by individuals was held in Hasselt on November 10-13, 2006. Falun Gong practitioners attended the fair and their activity of "folding paper Lotus flowers" was well received. This is one of the large-scale Christmas Celebration activities prior to Christmas in Belgium. People poured into this place to buy their favorite Christmas essential supplies and gifts.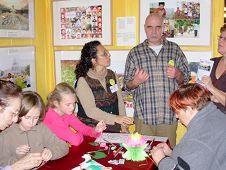 Falun Gong practitioners' booth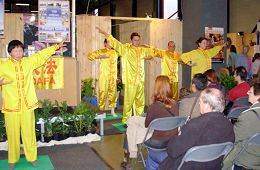 Exercise demonstration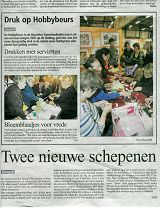 Local newspaper report, "The beauty of Falun Gong becomes well known in Belgium"
The city of Hasselt is the capital of Limburg Province in Belgium, closely neighboring the south of Holland and the east of Germany. Therefore there are always lots of products from Holland and Germany in the exhibition. Many residents of these two countries also come here for shopping.
There were products of all kinds in this year's fair. The product by Falun Gong practitioners was folded paper Lotus flowers. Various types of information about Falun Dafa, as well as information about the brutal persecution of Falun Gong by the Chinese Communist regime was neatly arranged on the table. There were also posters on the wall showing the wide spread of Falun Dafa around the world and children practicing Falun Gong. One of the posters was a photo of children of Falun Gong practitioners who have died as a result of the persecution.
Practitioners demonstrated the five sets of Falun Gong exercises on the central stage every day wearing golden exercise suits. Falun Gong practitioner Salva, in his forties, said that although he still had a bit of difficulty doing the fifth exercise, the double cross-legged sitting mediation, he was very confident showing the other four sets of exercises. By joining the exercise demonstration on the stage, he wanted to show people the beauty of Falun Dafa.
Western practitioner Danise is to be seventy-five soon. She joined all four days of activities and insisted on demonstrating the exercises on the stage. If there were enough helpers around the table, she would take the Lotus flowers she made and go to other places to tell people about Falun Gong and the meaning of the Lotus flower. A native dancer in the fair told her, "Whenever she passes by the Falun Gong booth, she feels a very strong energy field. She has the same feeling when watching the exercise demonstration." Danise said that this activity was so wonderful. She felt very peaceful and beautiful.
Practitioner Rego printed enlarged Chinese characters, "Truthfulness, Compassion, Forbearance" using his computer and then carefully framed each character. The three golden characters of "Truthfulness, Compassion, Forbearance" were displayed on the exhibition wall. Practitioner Fons designed and directed the making of wooden frames used in the booth.
During the four-day activity, Chinese practitioners and western practitioners in Holland and Germany, along with practitioners from Belgium, showed people the beauty of Falun Dafa with their benevolent compassion.
The beautiful Lotus flowers attracted many people. There was always a large number of people around the Falun Gong booth during the four-day activity. Children were especially interested in learning to make the Lotus flowers while their parents stood behind them reading Falun Gong information.
Western practitioner Karmen often forgot to have her lunch because she was too busy talking to people. She taught children how to make Lotus flowers and asked them all kinds of questions such as: "What is the name of this flower?" and "Where do they grow?" She also told the story of little Fadu to them. Just before her birth, Fadu's father was detained by the Chinese Communist regime and beaten to death by police because he practiced "Truthfulness, Compassion, Forbearance." Her parents, like many other Falun Gong practitioners in China, only wanted to become better people by following the principles of "Truthfulness, Compassion, Forbearance." However this is not allowed in China. Many Falun Gong practitioners in China have been illegally detained and many of them have died as a result of persecution. At this time she would point to the pictures of orphans who lost their parents and tell people that countries around the world condemn the Chinese Communist regime's persecution of Falun Gong practitioners, and that Falun Gong is freely practiced and well received in Belgium.
Practitioners answered various questions raised by people and distributed materials to those who wanted to know more. People felt quite exasperated about the torture methods used by the Chinese Communist regime, and asked how a government could persecute its own people so brutally. Some people said they wanted to learn more from Falun Gong Internet sites.
Nina explained to her little daughter that in some countries people have no freedom, like in Germany during the World War II. That regime killed many people. What is happening in China now is like that.
A mother and daughter from the city of Ghent were very surprised and pleased to see Falun Gong practitioners at the fair. A few days ago, the daughter got a Falun Gong leaflet and the mother visited Falun Gong Internet sites. She watched the Falun Gong exercise instruction video and was just thinking about how to find exercise sites.
One lady told practitioners that she was very depressed today. But soon after she sat down and started to fold Lotus flowers, she felt happy and relaxed. She thanked practitioners for providing her such an environment and said that she hoped to see practitioners again next year.
On the last day of the fair, the local media interviewed practitioners. The next day the article was published with large pictures. "The beauty of Falun Dafa becomes well known in Belgium."
http://www.yuanming.net/articles/200611/57719.html