Japan: Rally and Parade Held in Tokyo Supporting 15 Million People Quitting the CCP and Its Affiliated Organizations (Photos)
November 16, 2006 | By a Falun Dafa practitioner in Japan
(Clearwisdom.net) A rally and parade supporting the 15 million people who have quit the Chinese Communist Party (CCP) and its affiliated organizations was held on Sunday, November 12, 2006, in a park near Shibuya Station in the Shibuya District in Tokyo. The activity was held jointly by the Japanese Service Center for Quitting the CCP and The Epoch Times, NTD TV, and Sound of Hope International Radio Station.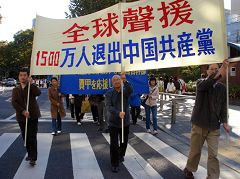 Parade held in Japan supporting 15 million people quitting the CCP and its affiliated organizations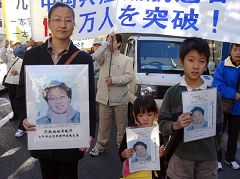 Falun Gong practitioner Ms. Wu Lili is in the parade holding a display board with message "Return my elder sister Wu Xiaohua"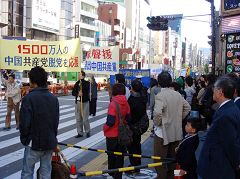 People are attracted by the parade, stopping to watch
At the rally, Falun Gong practitioner Ms. Wu Lili presented the audience with information about her elder sister Wu Xiaohua who has been subjected to persecution in mainland China. Ms. Wu Xiaohua was a professor at the Anhui Institute of Architecture & Industry, and started practicing Falun Gong in 1994. The Chinese Communist Party has illegally detained her over ten times in forced labor camps, detention centers and mental hospitals. This October, she was arrested again and forced into a mental hospital for the third time. Ms. Wu was subjected to humiliation and persecution while being detained in forced labor camps and mental hospitals. Examples of the abuse include gagging her mouth with feces and urine, covering her head with a plastic bag and tying the string to exert fear, shocking her with electric batons, and forced injections of unknown drugs, causing her to become muddle-headed.
Ms. Wu Lili hopes that kind people will extend their help to stop the persecution.
Since the CCP started the persecution of Falun Gong on July 20, 1999, Ms. Wu Xiaohua had persisted in appealing on behalf of Falun Gong, and continuously clarifying the facts to people. During the seven years of persecution of Falun Gong, she was arrested over ten times, detained in forced labor camps, and even forced into mental hospitals. Her first detention in a mental hospital was not exposed to the outside until the hospital asked Ms. Wu's work unit to pay for her hospitalization. The second time, Ms. Wu was also secretly sent to a mental hospital. In 2002, Ms. Wu Lili called for help at the World Psychological Medicine Conference that was held in Yokohama. The case of Ms. Wu Xiaohua being persecuted at CCP mental hospitals is also one of the cases that the United Nations Working Group on Arbitrary Detention is concerned about.
Ms. Wu Lili said that the UN Working Group on Arbitrary Detention has made a conclusion after their investigation. The UN verdict was that the Chinese government could not point out what particular law these people had broken, but [the only crime is that] they are all Falun Gong practitioners. They suffered persecution for exercising their rights of freedom of belief, which is guaranteed by the Chinese Constitution. They have been detained, tortured and abused numerous times for refusing to give up Falun Gong. The UN Working Group on Arbitrary Detention also stated that their source further indicated that Falun Gong practitioners' activities have always been peaceful.
Mr. Zhang Benzhen, a representative of the Japanese Committee on Rescuing Gao Zhisheng also spoke at the rally. He expressed that lawyer Gao Zhisheng has been voluntarily defending poor people's human rights for a long time, demonstrating a human rights lawyer's noble character. Particularly when defending Falun Gong practitioners who are suffering brutal persecution by the CCP, he has fully displayed his fearless and uncompromising stance in the face of tyranny. The CCP authorities are suppressing Gao Zhisheng, which fully exposes the CCP stance of opposing their own people. He called on governments of all countries to pay attention to the persecution imposed upon lawyer Gao Zhisheng and his family, and condemn and urge the CCP authorities to immediately stop the rampant political persecution.
Mr. Liu Hongfeng from the Japanese Service Center for Quitting the CCP used the experience of his own family to expose the CCP's damage to Chinese traditional culture and the disaster that the CCP has brought to the Chinese people.
After the rally, people held a parade in the busy area near Shibuya Station in Shibuya District. A Japanese man carried a board on his back in the parade with words reading, "Dear citizens, please call on TV and newspapers to report on the CCP's atrocity of harvesting organs! Stop killing and suppressing human rights!"