Rally Condemning a Day of Mourning for the Chinese People - Anniversary of the CCP Taking Control of China
October 06, 2006 | By a Falun Dafa practitioner in Seattle
(Clearwisdom.net)
On October 1, 2006, the Seattle Service Center for Quitting the Chinese Communist Party (CCP) held a rally at Qingxi Park in Chinatown, Seattle, Washington to condemn the CCP atrocities.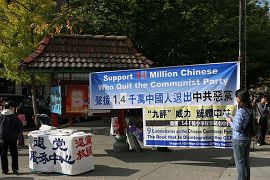 A glimpse of the rally
There was a series of historical photos displaying the CCP's 57 years of tyranny on both sides of the Park. Banners and signs conveyed messages including, "Supporting 14 Million Brave People Quitting the CCP," "Supporting Yuan Sheng," "Demand the CCP Release Lawyer Gao Zhisheng Unconditionally." Many Falun Gong practitioners also joined the rally, condemning the CCP's atrocities of harvesting organs from living Falun Gong practitioners.
Mr. Li Rui from the Seattle Service Center for Quitting the CCP said in his speech, "October 1, is the day of the CCP's 'Usurpation of Power,' and also the Chinese people's National Day of Mourning. The evil CCP has taken bloody and ruthless measures by killing 80 million Chinese people to rule China. Accompanying the killing have been lies, deception, spiritual brainwashing, replacing five-thousand years of Chinese civilization with Party culture that is full of wicked theories and deviant ideas. The CCP has substituted traditional 'unity of man and Heaven,' 'revering Heaven and following the will of Heaven,' 'accumulating virtues and doing good deeds' with its struggle philosophy that advocates 'taking pleasure from fighting with Heaven, with Earth, and with people.' Under the evil CCP's 57 years of rule, the Chinese people have been deprived of traditional moral concepts, failing to distinguish righteous and evil, and the moral standards have slid down to a horrible state. The "Nine Commentaries on the Communist Party" has awakened countless Chinese people who have started realizing that the CCP is an evil specter, in nature. Therefore, they have despised it."
Falun Gong practitioner Sophie, who just came from mainland China about a month ago and now living in Oregon, recounted her sufferings due to the CCP's persecution.
Sophie said, "On March 21, 2001, the CCP police illegally arrested me and detained me at Beijing's Xin'an Forced Labor Camp. Later the name was changed to Beijing Women's Forced Labor Camp. It is an evil's den full of lies, violence and deception. Besides mental torment and physical torture, the labor camp authorities force detainees to do slave labor. Many cheap products for market are produced there. When I was detained there, we wrapped disposable chopsticks. All chopsticks were scattered on the dirty ground, even beside the toilet. We were only allowed to use the toilet once each day. There was only two minutes allowed for over a dozen of us to use six toilets. We had to brush our teeth and wash our face at the same time. So, many people did not have enough time to move their bowels. Some elderly women couldn't finish their bowels movements before the time was up. A slight delay would result in beatings with a thick club by the guards. To help this situation, we prepared a wooden bucket inside our cells for relieving the bowels. Every morning, one practitioner would empty it. They would have to bend and face the bucket while carrying it out, and as it was quite full after a day's use, the feces would spill on one's body if one was not careful. They could find nowhere to wash their hands and faces. During the hot summer, we were not allowed to take showers or wash clothes. Our bodies were dirty and smelly. The so-called sanitary chopsticks were made in such a dirty environment. We wrapped chopsticks with a paper or a plastic bag with words 'disinfected' on them."
Sophie obtained freedom after coming to the United States. She said, "Though the terror brought about by the persecution in the past years will still attack me sometimes, after all, I'm standing in a free country and a peaceful environment."
Mr. Lu Wenhe from Chinese democratic movement and Mr. Huo Mingxue from Union of Chinese Democracy and Unity also made speeches at the rally to condemn the CCP. Ms. Chen Zhiping read an experience of Mr. Tom who was persecuted by the Vietnam Communist Party, but did not want to reveal his name because his family is still in Vietnam.
After the rally was a sidewalk parade. According to two men who played Tang Drums at the front of the parade, "Playing drums, in Chinese tradition, is mainly to boost morale and frighten the evil. We hope our drum beats will inspire people who have long lived in the 'terror of Party culture' and who are still hesitating, watching and wondering. For the sake of their well-being and safety, we hope they will speak out about their dissatisfactions, and become truly free and relaxed in their minds. Moreover, playing drums celebrates the 14 million brave people who have resigned from the CCP and its affiliated organizations. We hope we will play drums again next time to boost morale for tens of millions more people who have shaken off evil Party's terror."