Historical Information: Recalling Master Teaching the Fa at the Singapore International Experience Sharing Conference in 1998 (Photos)
October 04, 2006 | By Singapore Dafa practitioner
(Clearwisdom.net) The Singapore Falun Dafa Association held an International Experience Sharing Conference at the World Trade Center on August 22-23, 1998. They had planned to hold a South East Asian Experience Sharing Conference. However, many practitioners from China, Europe and Asia registered at the conference, and a total of over two thousand practitioners from more than ten countries attended.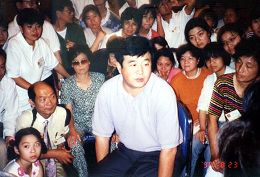 Teacher giving a brief speech to practitioners
Teacher poses for students
On August 22, our merciful Master came to the conference hall at 9:00 o'clock in the morning. The practitioners welcomed Master with the most enthusiastic applause. After teaching the Fa for thirty to forty minutes, Master left the conference hall.
After lunch, Master sat among the practitioners and listened to everyone's experience sharing.
On the morning on August 23, practitioners shared their experiences in smaller groups. In the afternoon, Master answered questions for the practitioners. At the end of the conference, Master displayed a set of big hand signs. Practitioners came to the platform in turn to take pictures with Master.
The two-day experience sharing conference finished after 6 o'clock in the evening on August 23. The most precious memory for those who attended was hearing Master teaching the Fa.