Sweden: Promoting Falun Gong and Clarifying the Facts at a Health Expo (Photos)
(Clearwisdom.net) The autumn weather in Sweden is very comfortable and cool, with a clear autumn sky. On October 14 and 15, 2006, Falun Gong practitioners were invited to take part in "The Day of Nice Feeling" health expo held by the Hallunda Community in the capital city of Stockholm. At the Falun Gong booth were banners saying, "Falun Dafa;" books; CDs; videotapes; exquisite paper lotus flowers; a wide variety of informational leaflets; paintings from the "Truthfulness, Benevolence, Forbearance Art Exhibition;" as well as truth-clarification materials and copies of the Nine Commentaries on the Communist Party in the Chinese language.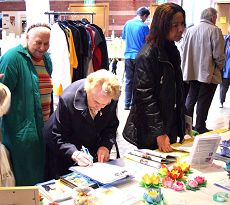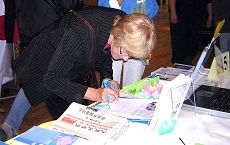 People sign their names to call for an end to the persecution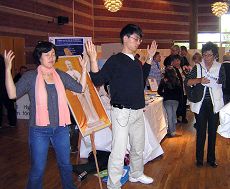 Visitors are moved by the melodious exercise music and gentle exercises
During the two days of the event, the local people had a good opportunity to understand Falun Gong and the persecution against Falun Gong in China by the Chinese Communist Party (CCP). They were moved by the melodious exercise music and gentle exercises. Some of them inquired about local practice sites, and many asked why the CCP is persecuting Falun Gong. In particular, they were shocked by the cruelty of the CCP in its organ harvesting from living Falun Gong practitioners.
So many people visited the booth that several practitioners demonstrating the exercises moved outside the hall to introduce Falun Dafa to more people. The person in charge of the exposition was very appreciative of the practitioners' activity: "Wonderful! You are a great advertisement for our exposition."
A woman from China chatted with a practitioner. She is studying towards a doctoral degree at the Royal Institute of Technology (Kungliga Tekniska Hogskolan). She admired the practitioners for having such a booth at an expo in Sweden. Practitioners explained the facts of the staged self-immolation incident on Tiananmen Square and introduced the Nine Commentaries to her. They also advised her to make a statement on the Internet to renounce the CCP.
On the afternoon of October 14, the host of this exposition offered a place for Falun Gong practitioners to demonstrate the exercises to people who were interested. The practitioners introduced Falun Gong and taught the exercises. Many people at the site felt the strong energy field. One woman said, "I am very lucky to meet Falun Gong practitioners today. Several years ago I visited Spain. One morning I took a walk and saw ten people practicing Falun Gong. That scene was very beautiful, absolutely transcending the secular world. It was regrettable that I had to leave. Please give me your contact information. I want to learn it. Thank you very much."