Germany: Clarifying the Truth about Falun Gong in the Southern City of Speyer (Photo)
January 25, 2006 | By a German practitioner
(Clearwisdom.net) Though it was freezing cold on January 14th, 2006, in order to expose the brutal persecution of Falun Gong taking place in China, practitioners set up a table with leaflets and other materials in the southern city of Speyer. The persecution of Falun Gong initiated by the Chinese Communist regime began on July 20, 1999 and has lasted for six and a half years.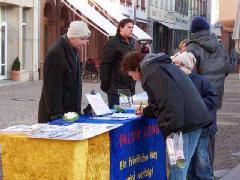 Passers-by signing the petition
To show people what Falun Gong is and to let them know how practitioners have been subjected to torture in forced labor camps, practitioners demonstrated the five sets of Falun Gong exercises and distributed fliers.
The exercise demonstration attracted people's attention and many passers-by stopped to watch. After talking with practitioners about the background to the persecution, people enthusiastically signed the petition in support of Falun Gong.
The practitioners also collected signatures to appeal for the release of Jiang Renzheng. Mr. Jiang and his wife are Falun Gong practitioners who were deported to China by the German government on March 7, 2005, after their application for refugee status was denied. The German government thought that the couple's lives would not be endangered after going back to China. However, Jiang Renzheng was directly sent to a forced labor camp to undergo "re-education" for three years by the Chinese Communist regime on April 8th, 2005 without legal proceedings. In October 2005, Germany's Wuerzburg Administrative Court ratified Jiang Renzheng's application for refugee asylum in absentia and the rescue work is going on at present.

Source:http://clearharmony.net/articles/200601/31099.html