Charles Lee Returns to San Francisco after 3 Years of Unlawful Imprisonment (Photos)
Free at last: Charles Lee smiles
(Clearwisdom.net) American citizen and Falun Gong practitioner Dr. Charles Lee suffered three years of both mental and physical abuse in a Chinese prison for going back to China to spread the truth about Falun Gong. On the morning of January 21 2006, Dr. Lee finally returned and reunited with his fellow practitioners and friends at the San Francisco airport.
Falun Gong practitioners and Friends of Charles Lee welcome Charles at San Francisco International Airport
| | |
| --- | --- |
| Charles and his friends at the airport | Amnesty International has been actively involved in efforts to rescue Charles Lee. A representative of AI welcomes Charles at the airport |
| | |
| --- | --- |
| Charles Lee accepts media interview | A reporter for the San Mateo County Times interviews Yeong-Ching Foo |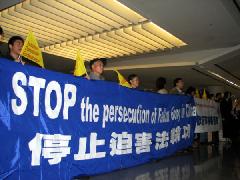 Falun Gong practitioners and human rights groups call on the Chinese Communist regime to end the persecution of Falun Gong
While talking to the press at the airport, Charles Lee said: "I am so glad to get back to the United States. I would like to thank my fellow practitioners, the U.S. consulate and all kind-hearted people around the world for rescuing me. The support from so many practitioners and people with a sense of justice, as well as the efforts of U.S. officials, have helped me to survive the 3 years of imprisonment."
During the past 3 years, Mr. Lee was forbidden to practice Falun Gong, subjected to beatings, brainwashing, slave labor and many torture methods. To protest the abuse, he repeatedly appealed, and underwent 9 hunger strikes for a total of 50 days. During the hunger strikes, he was tortured with forced feeding. Once, the prison authority inserted a hose through his nostril into his stomach and purposefully left the hose in his stomach for 33 hours.
When asked about his experience during the three years in a Chinese prison, Charles said: "They used all possible measures." As the Chinese Communist regime tried to torture him to death, at one point he developed an acute heart condition. Besides physical torture, the regime also tried to break him mentally. He said: "They resorted to many measures. Besides forcing me to read the slanderous materials against Falun Gong and watch Chinese Central TV's propaganda every day, they confiscated all my books and notes. They also forced me to talk with them. When I refused to talk, they just kept interrogating me. Sometimes I didn't feel good, however, they would still force me to talk. After one group left, another would come to continue such torture."
Charles Lee Discloses the Persecution He Experienced in China
"The Chinese Communist regime's persecution against me was totally unlawful," Charles said, "When my mother was ill, taking advantage of my love for my mother, the regime tried to coerce me to accept the unlawful verdict, claming they would reduce the sentence if I cooperated with them." Dr. Lee's mother later passed away, as she couldn't bear the tremendous pressure and sorrow; however, the regime didn't allow Charles to see his mother for the last time.
Though subjected to all kinds of torture, Charles said that he never gave up his belief in Falun Gong. On his return, he will cultivate even more diligently and let more people know the truth about the Chinese Communist regime's persecution of Falun Gong. He said: "In China, there are still many Falun Gong practitioners who are being persecuted. We need to let the whole world know the truth of the persecution and to awaken the conscience of the Chinese people. I believe that we will succeed one day."
Amnesty International Calls on the Chinese Communist Regime to Release All Detained Falun Gong Practitioners
Members of Amnesty International also went to the San Francisco International Airport to welcome Charles Lee and presented him with a T-shirt with Amnesty International's logo. Jeffrey Shurtleff, a representative of AI, said: "We are here today to welcome Charles Lee back. He was arrested and unlawfully sentenced to prison for 3 years because he went back to China to clarify the truth and safeguard Falun Gong. We call on the Chinese Communist regime to release all detained Falun Gong practitioners."
Yeong-Ching Foo: What Charles Lee did was Righteous
To rescue Charles Lee, his fiancée Yeong-Ching Foo has been to the U.S. Congress, Department of State, state and city governments and countless rallies to tell of Charles Lee's plight and the persecution of all Chinese Falun Gong practitioners.
Ms. Foo said that she was very proud of Charles as what he did was righteous. "Risking his life, Charles went back to China. It was not for himself. He went back to stop the persecution."
Charles Lee went back to China on January 22, 2003 to tell the Chinese people the truth about Falun Gong. However, he was arrested at Guangzhou airport right after he landed. The Chinese Communist regime charged him with "Planning to use TV to reveal the persecution of Falun Gong" and sentenced him to 3 years in prison on March 21 2003 after a one-day show trial. He was then detained in Nanjing Prison. During the past 3 years, Nanjing prison staff tortured him both physically and mentally. They force-fed him, tortured him and forced him to do slave labor in a toxic environment. In addition, they subjected him to brainwashing repeatedly in order to force Charles to give up his belief in Falun Gong.
Many Citizens Learned the Truth of Falun Gong through the "Rescue Charles Lee" Efforts
When Charles Lee was unlawfully detained, to rescue him and demand that the Chinese Communist regime immediately release him, practitioners around the world held various activities including rallies, "Rescue Charles Lee Car Tours" and signature campaigns to expose the persecution. Consequently, many people learned about Falun Gong and the truth of the persecution.
In mid November, 2004, when San Francisco practitioners heard that the Jiang regime was conducting brainwashing against Charles for 3 hours every day and had instigated drug abusers and criminals to beat him in order to force him to plead guilty, they swiftly held a press conference on the following day to disclose the intensification of the persecution against Charles Lee.
On the evening of November 21, 2004, at the main track field of the University of America in Washington DC, students, professors and alumni with different backgrounds spoke out in English, Chinese, Korean and Japanese to call for the immediate release of Charles Lee.
Jiang Zemin and the Chinese Communist Party colluded to launch the unprecedented persecution against the principles of "Truthfulness-Compassion-Forbearance" in July 1999. In the past 6 years, countless Falun Gong practitioners have been subjected to brutal persecution for their belief. The brutality against a U.S. citizen let kind-hearted people clearly see the evil face of Jiang and the CCP. We call on all the kind-hearted people around the world to unite together to bring Jiang Zemin, the chief perpetrator of the persecution, to justice and end the unprecedented persecution against the core values of humanity.