Rape Victim Liu Jizhi: The Criminals Have Not Received Punishment, Please Do not Let the Voices of Justice Subside (Photos)
(Clearwisdom.net) From the editor: The following is the recorded oral account of rape victim Ms. Liu Jizhi. This statement has passed through many hands before it finally reached us.
I am Liu Jizhi, one of the victims raped by police in Hebei Province. The incident has completely changed my life.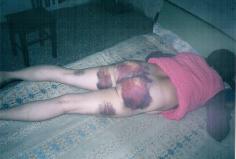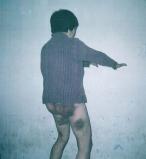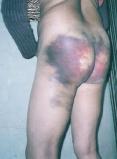 Ms. Liu Jizhi (51 years old) suffered from brutal beating and rape. Her hips and thighs are severely bruised
I am over 50 years old. I have two children, and our family lived a harmonious life. After practicing Falun Gong, I became healthy and I recovered from all my illnesses. Then, sadly to say, Jiang's regime began the persecution of Falun Gong -- ransacking homes, extorting money, and detaining and monitoring practitioners. The village government officials often detained my husband (also a practitioner) and I and extorted money from us.
On November 25, 2005, inside Dongchengfang Town Police Station, policeman He Xuejian raped me. I was released after my family members borrowed 3,000 yuan and gave the money to the police. But not before my body was covered with injuries (see photos). I wanted to commit suicide, but Falun Dafa and its requirements for its disciples prevented me from following through with this thought. Life is precious, and I will stand up with all my might and expose the evil to the entire world.
I held my head straight and did not hesitate to describe every detail of what happened to me. I described policeman He's despicable face, and recounted every dirty word that came out of his mouth. I could not help but weep when describing the abuse of practitioners by government officials like Song Xiaobin and Chai Yuqiao. As a woman, the experience of being raped was devastating. Yet, I kept telling myself, "The incident is not just about myself. During 6 years of the persecution, many female practitioners have suffered and are still suffering the same torture and abuse. I am standing up for all of them. I'm calling for help, telling everyone in the world about the tortures we suffered and are suffering. We call for the wheel of justice to turn and to support us. We ask that the criminals be punished, and that our good reputation is restored. I want to let more people know that I, Liu Jizhi, was raped by a Chinese policeman for practicing Falun Gong!"
Only by exposing the crimes can we stop the evil. People with a conscience and a sense of justice -- please help us bring the criminals to justice. At this time, police station staff and the Zhuozhou City police department desperately want to cover up the facts. They broke into my home and arrested me, and then raped me in broad daylight. Now that I have exposed their crimes, will they arrest me again with the excuse that I practice Falun Gong, in order to prevent the truth from being told? Song Xiaobin and Chai Yuqiao took me to the police station, where He Xuejian raped me, and policeman Wang Zengjun watched shamelessly. All these people are responsible for this crime. If they arrest me and prevent Ms. Han Yuzhi and her husband Liu Jianzeng from telling the truth, wouldn't the criminals go unpunished, and wouldn't justice be ignored?
In order to avoid further persecution, I was forced to leave my home. Soon after, I heard that He Xuejian was arrested. A Zhuozhou City TV station publicized it during the news hour. Yet, when I was ready to return home and file a lawsuit against the criminals, I was told that people like Song Xiaobin and Chai Yuqiao had announced all over our village that they would spend 100,000 yuan to arrest me and Ms. Han Yuzhi (who also had left her home to avoid persecution). I was treated as a criminal instead of the victim. I decided not to go home, leaving my husband and children living in fear at home.
My personal experiences and the book Nine Commentaries on the Communist Party have made me understand many principles. I understand clearly the minds of the Chinese Communist Party (CCP) officials. The local officials will never bring justice to the victims. With all the international attention focused on the incident, they are not able to protect He Xuejian, and they had to arrest him. In fact, these officials are afraid to be implicated -- they have never paid attention to the suffering of the people, let alone brought justice to the Falun Gong practitioners under persecution by the CCP.
The unlawful officials of the CCP do everything to protect and bring gain to themselves. They brutally tortured us under the direction of the CCP's policy of persecuting Falun Gong. When I exposed their crimes, they began to fear deeply that being exposed would destroy their future, and their opportunity to gain wealth would slip through their fingers. As a result, they refused to punish the criminals and tried their best to stop me from talking. They want to stop the voices that condemn their crimes to the world.
This is why I cannot return home now. He Xuejian is not the only criminal. There are other criminals still at large. I cannot return home safely with the criminals unpunished and Falun Gong still under persecution. So I have decided to continue exposing the persecution. I also hope friends from all over the world continue to support us. With the attention and condemnation of people, the bad people don't dare to continue their persecution of good people. With continuous forceful voices demanding punishment of the criminals, they will finally be brought to justice.
Only when justice is returned to Falun Gong, can I return home in a dignified way!
January 13, 2006